Hello again everyone! I hope you're all doing well and have had a great weekend 🙂
So, last month I did my first ever Anticipated Releases post, and I really enjoyed it! I'm still waiting to purchase some of my favourite from that list, but it has really helped me keep up to date with the book world and, of course, find new treasures to add to my collection. So I thought I would keep this up, doing a post at the beginning of every month.
I did a bit of searching on Goodreads and Amazon, so here are the top books I'm looking forward to seeing released this October!!!
 1. Spare and Found Parts by Sarah Maria Griffin~ publication day 4th October 2016
This book just crept up on me, I really didn't know anything about it until its actual release day last week! The cover is so so pretty, and the story does sound pretty intriguing too! ❤
In a world where an epidemic has left people using her father's biomechanical parts to replace missing bits of their bodies, Nell is the only one whose missing piece is internal: her heart. Feeling like an outsider unable to contribute, Nell controversially decides to try and build her own companion. This plan delves her deeper into the city's inner workings, as well as some family secrets.
This seems to be an interesting world and I am excited to give this a go.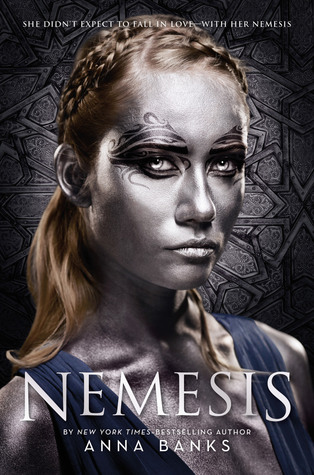 2. Nemesis by Anna Banks~ publication day 4th October 2016
Straight away I notice a typical novel trait: romance between enemies. BUT I'm not going to immediately cringe as I am partial to this story development, as long as it isn't too cliché!
Princess Sepora has rare Forger abilities and flees her kingdom to avoid being a pawn of war. However she ends up getting captured by neighbouring Theoria and becomes the young king's servant. Sepora's gift could help the plague that blights Theoria, but should she really help her nemesis?
I am a sucker for this sort of story so I am definitely excited to give this a go; I hope it lives up to my expectations! 🙂
3. Viscera by Gabriel Squailia~ publication day 4th October 2016
I hadn't actually heard of this author before, but this looks really interesting!
The Goodreads synopsis doesn't really give much of the plot away, but essentially the book revolves around ancient gods. The Gone-Away Gods are dead and stored in Catacombs, and their leftover power draws a mix of humans and other beings together in a uniquely magical world.
I am REALLY intrigued about the world-building in this book, it seems completely different to a lot of things I've read recently. It is supposed to be magical and comical, so I definitely want to check the writing out!
4. Bound by Blood and Sand by Becky Allen~ publication day 11th October 2016
Okay, so this story sounds AMAZING.
Jae is a slave, cursed to follow every order given to her. But during her master Elan's quest to uncover hidden magic for the dying magical Well, it is Jae who ends up wielding it. Elan wants to use the power to find the magic Well to make sure water can keep flowing to this dying desert world, but after the life she's lead, Jae doesn't want to. Why should she save the system that's shackled her?
This sounds so cool! I am really interested in Jae's character and what she ends up doing after the life she's had to struggle with. This is definitely my most anticipated read this month! I LOVE the colours of this book too, the orange and blue tones look so nice. ❤ ❤
5. The Row by J.R. Johansson~ publication day 11th October 2016
So I actually didn't know much about this book until last week, when I saw a review by The Eater of Books. I must say, I'm definitely intrigued by this book!
Riley's father is a convicted serial killer on death row, however he has always told his daughter that he is innocent. A month before his execution her father confesses he did kill those people to try and help her move on. While he takes is back immediately, this prompts Riley to find her own truth over what's going on in this book. This sounds super interesting and I really want to find out more about it!
****
As well as my top 5 anticipated reads for October, there are some more that also sound interesting to me, including…
   Released 4th October  .  Released 6th October  .  Released 11th October .
   Released 11th October  .  Released 11th October  .  Released 25th October . 
****
Are there any books you guys are looking forward to this month? Let me know in the comments! ♥