Okay guys so I actually haven't done a book haul since August?! That doesn't feel right- it was so long ago! :O
You know what that means- it's time.
That's right, I have SO many books to show you all. Not only have I been taking advantage of the "buy-one-get-one-half-price" offers to grab loads of YA books, but my current Christmas job gives me a hefty book discount and access to old book proofs that I can just take?!?!?!?!?!? What madness is this!
Safe to say I've gone a little overboard and now I have so many books in my haul. I thought I would show them all here before I dive right in and get reading, so here goes!
Physical books I've bought
Okay, so these are the books I've bought in my local bookshop, either using my work discount or using the in-store sale offers:
1.Nothing Tastes As Good by Claire Hennessy~ Oh gosh so I've been eyeing this book up since YALC, and just never got round to buying it. I've always had issues with my weight so I love reading books with overweight characters in them, or stories covering weight subjects. I'm interested to see how this book deals with it, especially as it seems to cover both ends of the body image spectrum! ❤
2.Red Queen by Victoria Aveyard~ If you're not already aware I've been really craving royal fantasies at the moment, and I have had this book on my "to-read" list for months! And isn't this cover gorgeous? 🙂 The idea of Mare being different to society but displayed in plain sight really appeals to me, and I hope it satisfies my craving!
3. The Art of Being Normal by Lisa Williamson~ I'll be honest and say that this one didn't jump out to me originally. I was looking for a second book to meet the 'buy-one-get-one-half-price' deal and I remember hearing good things about this book. It won the Waterstones' Older Fiction Children's Book Prize, which definitely enticed me a bit more. I don't think I've read a transgender novel yet, so I'm looking forward to it.
4. The Invasion of the Tearling by Erika Johansen~ Yup. After reading (and loving) The Queen of the Tearling in October I just had to buy the sequel, no questions asked. I'm so happy- I can't wait to see more of this history unfold and see just what Kelsea will do next! ❤
5. Poison Study by Maria V. Snyder~ I remember seeing a review of this book a few months ago and being really intrigued. Honestly I just love the idea of a food taster/being under threat of poisons on purpose (yes I'm sadistic I know), so I can't wait to give this a read.
6. Lobsters by Tom Ellen & Lucy Ivison~ Okay, so I definitely judged a book by its cover here.. I really really wanted this on my bookshelf- just look how cute it is!! I feel like it is going to be a light and fluffy/teen read, but I'm definitely giving it a go for the cover alone #shameless
E-books I've bought
I go through phases with my Kindle: I'll order tonnes and tonnes of books in one go (usually free ones, i wont lie), and then I wont touch the thing for months at a time. I thought it was time for me start experimenting with Kindle books, so uhh, I got busy? :
1.Shadow & Bone by Leigh Bardugo~ Okay, so Amazon were doing a sale on Leigh Bardugo books, and I really want to read this series before I get to Six of Crows (I'm trying so hard to wait until I read the Grisha trilogy, but its so hard!). I'm hoping I'll like it, so many people do!
2.The Vagrant by Peter Newman~ A book I've been umm-ing and ahh-ing about. The Vagrant sounds so mysterious, but I love the sound of the world and it was only 82p on Amazon- 82!!!! I mean I couldn't resist giving it a try after that, could I. Side note, that cover art is stunning.
3. A Christmas Gift: Winter Romance by Stella Wilkinson~ I was browsing the free ebooks section on Amazon and this seasonal cutie came up. I know I know its not quite Christmas yet, but one's allowed to prepare herself right? I have a feeling it is going to be super cheesy, but hey, its festive so its allowed. Will definitely be giving this a go in December 🙂
4. Descent by Sloane Murphy~ Another free Kindle book (gotta love the freebies). I'm a lot more open to new talent and the risk of stereotypes when books are free, but I decided to give this one a whirl. Its based around Adelaide who wants to be the first girl in the Red Guard, fighting alongside Fae and Vampyr to fight the Demon King. Sounds interesting, and I just hope its written well!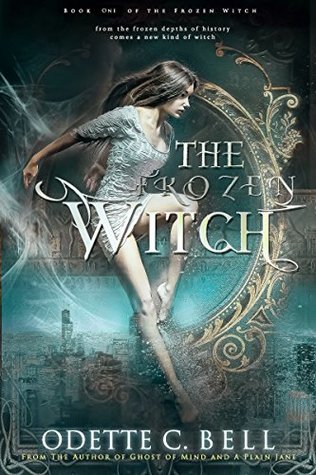 5. The Frozen Witch by Odette C. Bell~ My final free ebook in this giant haul. This looks like a very very short book, but I loved the cover and really fancied giving it a go. Sounds a bit like Pandora's box meets dark romance? And there aren't any Amazon reviews, so I'm going into this blind 😛
Book proofs I've "borrowed"
As I mentioned at the beginning of this post my current job has piles of old proofs they no longer need, and I'm just allowed to waltz in and take some. My book hoarder demon dances with glee every time I take a step towards the 'proof pile'.
I haven't been working there very long so I haven't grabbed too many, but these are the books I've umm.. borrowed?
1. The Dark Days Club by Alison Goodman~ I've been intrigued by this book ever since I went to YALC and got a bookmark with the following quote: "I have been taught to sew and sing and dance, and my duty is to marry, not fight demons" This made me chuckle but I've never taken the plunge and bought the book. When I saw this proof at work my heart flipped ❤ And yup, I pounced on this straight away (I think on my second day?). Can't wait to give it a go.
2. Sparrow Falling by Gaie Sebold~ So I picked this one up because of steampunk, simple as that. The cover looks really pretty, and I love the idea of a school teaching girls burglary and fakery! Badass. Good steampunk is rare and I'm quite excited to give this one a go, I have high expectations! 🙂
3. Diary of a Vampire in Pyjamas by Mathias Malzieu~ So this one is a little different, and is actually a memoir of musician Mathias Malzieu. I'll be honest and say I don't actually know who he is, but this still looked like an interesting read with regards to the storytelling? I probably wont end up reviewing this but I thought I would try something different while I have access to free books.
****
Wow, what a huge haul! I surprised myself to be honest, the pile didn't seem that big before I started writing this post! Having a replenished TBR pile makes me so happy! ❤
If you read this all the way to the end, well done you!! Are there any books in this list you like the sound of? Have you bought any beauties recently? Let me know in the comments! ♥