So I'm back with another tag. 🙂 I have been working this weekend I haven't had any time to write a long blog post. I thought it was a perfect time to get a tag post finished (for once), as this has been sitting in my drafts for weeks and weeks.
A while back I spied Sammie doing a Goodreads Book Tag, which looked really fun! I wasn't explicitly tagged by Sammie but I wanted to jump on the bandwagon on this one.
I only really discovered Goodreads just before I started blogging, so I'm still a newbie to be honest. But gosh isn't it a book-lover's treasure trove!? I love using it to see what books are coming out and adding more and more to my wishlist 😛
Also Sammie I know I still have the Beauty and the Beast tag that you tagged me in a while back- I haven't forgotten! I'm just finding some of the questions more difficult at the mo 😛
Okay, here we go!!!
****
What is the last book you marked as read?
La Espada y la Llama by Mónica Peñalver. This is the first Spanish-language book I have finished since I finished my language degree in Summer 2014. It's actually a fantasy novel based in Asturias, where I did my year abroad! I actually have been reading this book off-and-on since then, but after leaving it on my bedroom floor for an age I battled through to finish it.
It's not that the book was bad- I mean it is Spanish and full of cliches and love- but as it is my second language it takes me forever to read! I didn't know half the words but I understood the plot, which makes me feel really accomplished.
What are you currently reading?
 Nothing Tastes As Good by Claire Hennessey. Man I've been wanting to read this book since July when I saw the gorgeous cover around YALC-time. As I've already mentioned I do love reading books around weight-issues. This book is written slightly differently to how I imagine, but I am just flying through the pages, I really want to find out what happens!
What was the last book you marked as to read?
The Black Prism by Brent Weeks. I've heard a lot about this author but I still haven't read any of his books! I've been slowly adding his books on to my TBR list, and this one appeared in my recommended books while browsing good ol' Goodreads.
Honestly I'm mainly intrigued because the protagonist already knows he has 5 years left to live, and I want to find out if he can do everything he needs to in time.

Do you use the star rating system?
Yes! Once I have finished a book I tend to review it here, and post a smaller review on Goodreads with a star rating. I wish they had half stars though! I tend to round up by 0.5 ratings, but sometimes I don't feel a book deserves that extra star on the review…
What book do you plan on reading next?
Malice by John Gwynne. It is a series I have been meaning to read for MONTHS, and I'm finally biting the bullet this November. If it's good I'll have to rush out and buy books 2-4 😛
Are you doing the 2016 reading challenge?
No! 😦 I wish I was, but as I only started Goodreads (and blogging) this summer I didn't want to start a challenge part-way through the year. I'll definitely be taking part in 2017 though!
What book do you plan on buying next?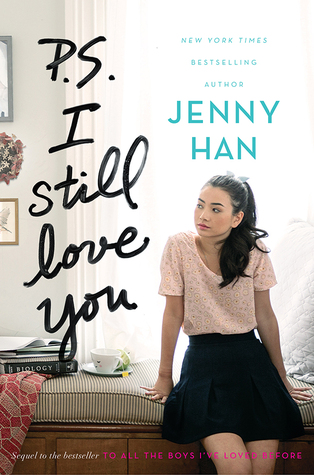 I have already bought waaaay too many books this month, but I temporarily have a discount in my local book stores so I've been going crazy. Next on my list is definitely P.S. I Still Love You by Jenny Han. I adored the first book in the series and I keep thinking about it.. which most definitely means I need to read the sequel already! ❤
Do you have a wishlist?
Oh gosh yes. My wishlist is forever growing thanks to Goodreads and the blogging community! I really should write them all down in a list, so I can keep looking at all the books I need in my life.
What is your favourite quote?
Ugh, this is a hard question! I'm actually a really bad reader: I feel like I skip the words in a book and let me imagination use the plot to absorb the story. I should make a habit of finding and saving quotes, but I just don't 😦 I remember laughing a lot at Chris Wooding's Ketty Jay series, so I guess I'll use  funny quote from The Ace of Skulls:
"Trudging off into a swamp in the middle of the night had seemed like a god idea at the time but, like most of Frey's ideas, the reality fell short of the concept."
There are so many funny and sarcastic comments in his series, but some of them really need context. I do like his conversations about being a narcissist!
I err, did actually have to use Goodreads for this part… like I said I'm bad with quotes!
Who are your favourite authors?
Chris Wooding!!! ❤
Sarah Rees Brennan
Laini Taylor
J.K Rowling
Roald Dahl
L. J. Smith (a guilty pleasure)
****
Thank you so much Goodreads, for broadening my reading horizons and for showing me so many new books. Without you I would struggle with my reviews and my book news, that's for sure!
I tag:
umm okay I'm being a bad blogger… I tag whoever wants to do it! ><
I'm still fining my feet in the blogging community and I don't want to keep tagging the same people every time. I'll get there eventually- I promise! ❤
♥