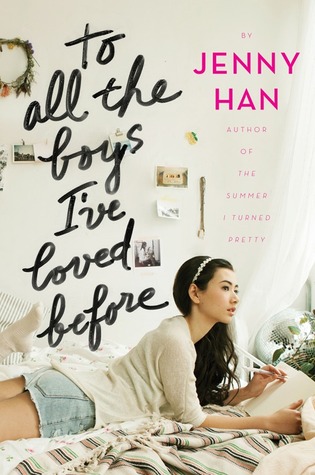 Title: To All The Boys I've Loved Before
Author: Jenny Han
Genre: YA, contemporary, romance
Pages: 421
Published: 2014 (UK)
Publisher: Scholastic Children's Books
Acquired: Bought at YALC
Rating: ★★★★★ [4.5]
Book Blurb:: Lara Jean's love life is about to go from imaginary to out of control.
Lara Jean Song keeps love letters in a hatbox her mother gave her- one for every boy she's ever loved. She can say anything she wants, because the letters are for her eyes only. Until the day they're sent out…
****
Note: I'm a bit behind on my reviews, so I want to apologise if I don't do this book justice. I'm trying to let my heart's emotions write this review for me, but I feel like I might repeat itself. I hope this review is still useful for all you lovely readers!
****
Okay I just want to put this out there: I adored this book. Not only is the cover beautiful (I would love to look like the model in the image) but the story is just so so cute- it made me really happy to read it!
The book follows Lara Jean Song and her family: older sister Margot, younger sister Kitty and their Daddy. Lara Jean is in high school and loves her life as it is- she doesn't want anything to change. She also has a tendency to write love letters to all her crushes when she is ready to 'get over' her  one-sided feelings. She puts the finished letters in her late mother's old hatbox, never to be seen again. Except one day they do, and they get sent to all of her crushes!
The letters pose a lot of awkward challenges for Lara Jean, especially with Josh. Lara Jean has had a crush on her neighbour Josh for years, but he is Margot's boyfriend and Lara does NOT want to ruin the relationship they all have with each other (despite her having a crush before they got together). As a result Lara Jean asks another of her old crushes who confronted her about the letter- Peter K- to pretend to be her boyfriend to get Josh out of the picture for her and her sister's sake. Peter agrees after a bad breakup with his long-term girlfriend, and so the romantic endeavours begin. …
****
Where to begin? I really enjoyed the writing style of this book, it felt really natural and refreshing. Everything flowed really well and it wasn't too whiny or cliché at all. And no unnecessary teen slang to try and add a 'cool factor' which I am SO grateful for.
The story was so relaxing and fluffy, and although I initially thought the storyline might be a bit same-y I actually didn't find it boring in the slightest. I couldn't wait to get on my the train to work every day just so I can immerse myself back in to Lara Jean's world. ❤ I did feel a lot like a K-drama, which in my book is a good thing. Everything flowed really well and I could really relate to Lara Jean a lot. I really can't describe how much of a happy feeling this book has given me- and I will definitely be reading the sequel! ❤
****
There were a lot of things I loved about this book. Although it reads and appears quite simple at first glance, this book actually has so many layers. Of course there is romance and some predictable plot patterns, but it also covers sibling rivalries, the aftermath of a parent's death, identity, friendships, growing up. I mean, thinking about it I was surprised at how much was easily dealt with in just 421 pages, it felt so easy to digest and really get to grips with how everyone is feeling in normal everyday life.
I also love that Lara Jean's diverse heritage is just… there. I mean, its great to have a main character who's half-Korean, it was a new background for me to read about. But I loved how it didn't take over the story; Lara Jean was still a normal girl trying to work out her love life and other teen problems, but she just happened to also be half-Korean. No big deal was made about it from her family or her friends, which is just how it should be. Diversity should just be woven in to a storyline and it doesn't have to be the key theme of a book (which so often it can be). It was really refreshing and I thoroughly enjoyed it. Good job Jenny Han!
****
Okay, so despite what my heart is saying I do have to be honest with this review and mention a little niggle: I did predict a LOT of what was going to happen, such as who sent the letters out, Margot's true feelings about a lot of things, etc. Partly related to this I felt like I didn't really connect with her or Kitty as much as I wanted to, which is a shame. But, without giving too much away, there wasn't too much emphasis on these particular parts throughout the story, so it ended up working really well. I think I would have found this story a lot more cliché and boring if the main focus of the book was the family events and consequences. The outcome of Lara Jean's feelings were also pretty inevitable, but I actually wasn't expecting P.K's reactions at all! 🙂 It was surprising and made me like him a lot more.
****
Now those tiny negative thoughts are out the way, can I just mentioned how much I love Lara Jean? ❤ She is so relatable. I love that Lara Jean is what Peter K calls, 'quirky'. Sure, she's pretty, but her personality is more dominant and often takes people by surprise (not necessarily in a bad way). She can be awkward but she is funny, cute and caring, and is trying her best to prove herself to everyone she knows that she is capable (although let's not mention the car). I think it's great that she has her own quirks and preferences… and she is fine with that. It was really nice to see, and I just wanted to keep rooting for her! Lara Jean can we be friends please?
Peter K also grew on me a lot. He did so many nice things despite Lara Jean's initial opinion of him and his reputation. He can pull dick moves at time (what teenage boy doesn't), but it was nice to see him mature and show a different side to him while doing the 'fake boyfriend' mission with Lara Jean. I also laughed at how thorough Lara Jean was with a boyfriend contract! 😛
****
All in all this was a super cute book. I finished it with such a warm fuzzy feeling and I was desperate to read more about Lara Jean's life. In fact it was such an enjoyable read that my heart can overlook any clichés or niggly bits about the book entirely. A wonderful book to read, and I would definitely recommend it! 🙂
Have you read this book? What did you think? Let me know in the comments! ♥
Rating: