Okay, I don't know how to tell you all this but…. I have a newfound love for Penguin Classics.
I don't read classics at all; mainly because it reminds me of boring English classes at school, and I generally prefer more modern writing. But Penguin have been really busy designing fancy editions of some popular books; I've only just discovered them this year and to be honest I am OH so tempted!
They have a few different style of books out at the moment, but it's the fine binding hardback editions I am absolutely in love with:
I mean- just look at them!
Ahhh I just love the designs- they are leather-bound and they have foil detailing that is different for each book. For the past week or so I've been visiting the section in the bookstore just to eye them up everyday.
I would love to get some for my shelves, but honestly I just know they would mainly be for decoration. Out of all the books on offer here are the top three I am most interested in:
Found here. I have never read Grimm's Fairy Tales and I would love to give it a go, but I really don't like the pink cover? I know Grimm tales can be quite dark, so I thought the cover might have been black and red or something more ominous. The online image makes it look a lot darker, but no, it's actually fuchsia pink. Apart from the colour the edition is so pretty though! Hmm- decisions, decisions…
Found here. Jane Eyre's cover is so so pretty, and right up my street. I've never read the story and don't know anything about it, but I'm wondering if it is worth the risk just for the beautiful cover. My picture isn't great, but it is a light navy blue colour, with gold foil detailing in the shape of leaves. The colour is exactly my style, and I feel like it is calling me every time I walk past it ❤ Just gorgeous!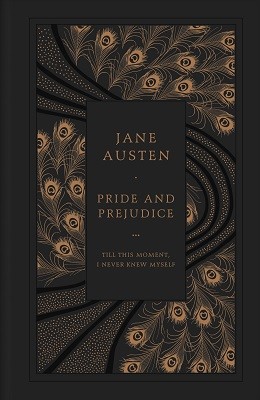 Found here. I was going to choose Dr Jekyll & Mr Hyde for the last book, but then I saw Pride & Prejudice. This is a book I have studied in school, but I did prefer the TV/film with Colin Firth to the book (can't beat Firthy as Mr Darcy). However this edition is in a classic black and gold colour scheme, which is simply divine. I'm almost drooling over it (except I wont 'cos you know, that would damage the cover)!
There are others that do sound interesting, all with glorious covers (and even some other stories with cloth covers instead), but at £20 each they are a lot pricier than I would normally pay for a book… so I'm having a moral dilemma. Do I buy a copy or two just to stare at and admire from my shelf, or will I regret spending the money when I may not even read them? #bookishproblems
Ahh, help!
Have you seen these editions before? Do you own any? Let me know which ones are your favourite!
♥