Hello hello!
Yes, so tomorrow (16th December) is National Christmas Jumper Day!
It is actually a Christmas fundraising event for Save the Children. Each christmas jumper-wearer should donate £1-£2 to help save a child's life this Christmas. You can visit this link for more information about this event.
Despite how much I love Christmas, I only own one Christmas jumper >.< I know, I know, such blasphemy, I'm ashamed of myself.
I don't even know why- I think I see them in the shops so much that I forget that I actually need to own some 😛
This is the jumper I'm wearing for the occasion:
Yup, a nice, typically garish Primark jumper (the best kind, am I right?). It plays music too, which all my work colleagues will love (Hint: that's sarcasm haha).
****
It's clear that I've missed the bandwagon this year for Christmas jumpers, but due to the occasion I thought I would show you some of my favourite jumpers I've seen in the shops this year:
1. Next: Fashion Union Sheep Christmas Jumper~ £20
Omg, look how cute this is! Red is such a festive colour, and I love the sheep pun shaped as a Christmas tree, "Fa La La La, Baaaa". I feel like they are missing an extra 'La' though 😛 This one is festive without being too in-your-face about the Christmas season.
2.Primark: Novelty Christmas Reindeer Jumper~ £7
I feel like Primark are known for being the best at typical Christmas jumpers, and I love them for that. This one is particularly adorable. Navy is my favourite colour, and I adore the little Christmas lights wrapped around Rudolph's antlers! So cute. ❤
3. Primark: Christmas Tree Light-Up Jumper~ £16
Okay, so most of Primark's amazing jumpers are not on their online catalogue, but I had to feature this one as it lights up. This once has a fancier tree design so it is isn't too tacky (which isn't a bad thing on Christmas jumper day), but the lights make it much more fitting for the occasion.
4. Dorothy Perkins: Ivory Christmas Pudding Jumper~ £28
So this is mainly sold out, but OMG this looks sooo pretty. If they had my size I would have snapped this up, but as usual I'm too late. I love the Christmas pudding design in the shape of the heart, and it makes it festive but classy 🙂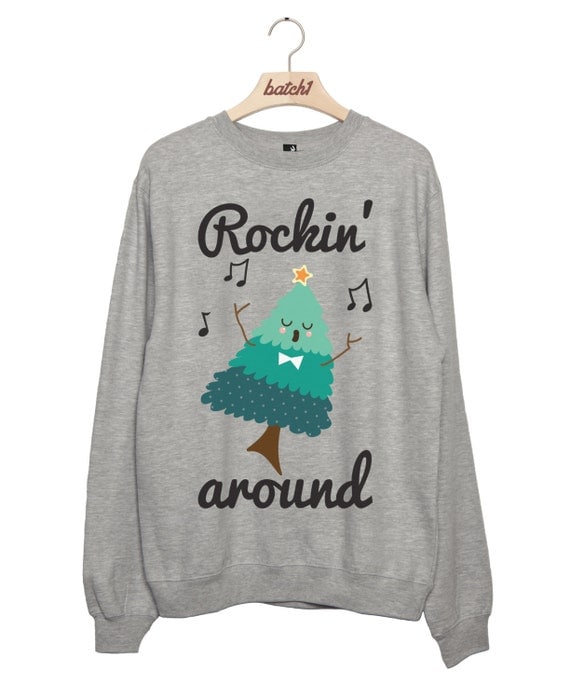 5. Batch One on Etsy: Rockin Around the Christmas Tree Novelty Jumpetr~ £23.95
Oh wow. So I've been wanting to get a grey Christmas jumper for ages, but I haven't been able to decide which one is the 'perfect' one. This little number has certainly caught my eye. I mean, it's a rocking Christmas tree!!! ❤ I'm in love, it makes me smile and it looks so comfy. ❤
****
Of course there are so many other cool ones, but I didn't want to make this list too long!
What kind of Christmas jumpers do you like? Are you wearing one for National Christmas Jumper Day? Let me know in the comments!