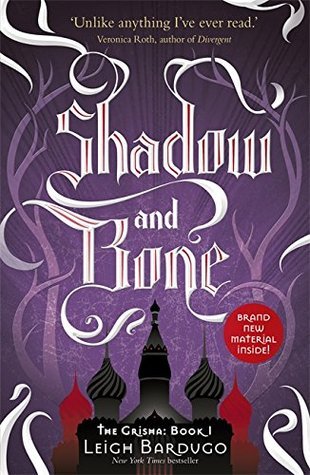 Title: Shadow and Bone
Author: Leigh Bardugo
Genre: YA, fantasy
Pages: 369
Published: 2013 (UK Orion edition)
Publisher: Orion Children's Books
Acquired: Ebook bought off Amazon
Rating: ★★★★☆ [3.5]
Goodreads Synopsis:: Surrounded by enemies, the once-great nation of Ravka has been torn in two by the Shadow Fold, a swath of near impenetrable darkness crawling with monsters who feast on human flesh. Now its fate may rest on the shoulders of one lonely refugee.
Alina Starkov has never been good at anything. But when her regiment is attacked on the Fold and her best friend is brutally injured, Alina reveals a dormant power that saves his life—a power that could be the key to setting her war-ravaged country free. Wrenched from everything she knows, Alina is whisked away to the royal court to be trained as a member of the Grisha, the magical elite led by the mysterious Darkling.
Yet nothing in this lavish world is what it seems. With darkness looming and an entire kingdom depending on her untamed power, Alina will have to confront the secrets of the Grisha . . . and the secrets of her heart.
****
So I've finally got round to starting this series. Shadow and Bone is the first book in the Grisha trilogy. I've heard so many good things about this series, but to be honest I've only decided to read it because of Six of Crows. Although I could read this separately from the Grisha trilogy, it apparently does reference some of the Grishaverse elements discussed in the original series, so I didn't want to miss out (or I'm just nosy, either way). I've been dying to read Six of Crows so I felt I should hurry up and get this trilogy out the way first.
The book focuses on orphan Alina Starkov, who is working as a cartographer in the army. She describes herself as 'average' and believes she is just another grunt in the army regiment. However after an attack in the dark crossing 'The Fold', Alina discovers she has a hidden and rare magical ability, instantly elevating her into the Grisha society. This society, often reserved for nobles, is full of magic and luxuries that Alina never had. Alina must learn to control her new power while adjusting to her new status, living under the interest and protection of the mysterious Darkling. But when she discovers something that could threaten life as she knows it, will she stay or go?
****
So I had a shaky start with this book, but overall I did enjoy it! It was a really unique world, full of a range of Grisha powers. I liked the different orders for the powers as the magical uses were so different to a lot of other magic books. Essentially the magic is an extension of naturally occurring 'magical' features, the Fabrikators can alter existing metals and things rather than 'poof' it out of thin air. I felt this explanation and how the Grisha developed was quite unique and refreshing.
Side-note: I love the idea of the Grisha klefkas– they sound so cosy!
One thing I would have liked though would be to have more information about the Grisha orders. I know that Alina grew up in a world where these powers were a normal part of society, but as a reader I did feel a bit out of my depth and it was hard for me to understand the significance of all the orders and their hierarchies. I also felt that there wasn't a lot of importance or awe placed upon Alina's Grisha, which I found strange considering how different she is?
****
I definitely felt the book became more interesting after a revelation in chapters 12-14. Before that it was still a good read, but it was mainly about Alina adjusting to Grisha life, which wasn't as fun as it could have been. But after chapters 12-14 it was a really quick and enjoyable read, I had a lot more fun! It became a lot more dramatic and I really felt invested to find out how Alina was going to fix the plans set out for her. There was only one time when I felt it was a bit too fast-paced and that was when Alina runs off. I mean there was no hesitation at all? Alina was loving life one minute, and literally 2 seconds later she decided to ignore everything she's experienced as a result of one look from a teacher. It didn't work with me, but that's just my personal opinion!
It was nice to see Mal reunite with Alina for the last half of the story, the dynamic worked so well! I really like Mal as a character, he seems like  sturdy personality and really caring, although I wish he was a bit more open in the book.
****
I apologise if this review seems a bit thin, I'm not sure why but I'm finding it really difficult to pick out exactly what I liked about this book?
I should point out that the story isn't bad at all, I can definitely see why it is so popular. I liked it but it just didn't excite me as much as I thought it would, so it is purely my own personal opinion.
Shadow and Bone was a generally good read with some really nice ideas. Mal definitely made it for me ❤ It wasn't the best book ever for me, but I am still interested in finishing the trilogy!
Have any of you read this series? What did you think? Let me know in the comments! ♥
Rating: