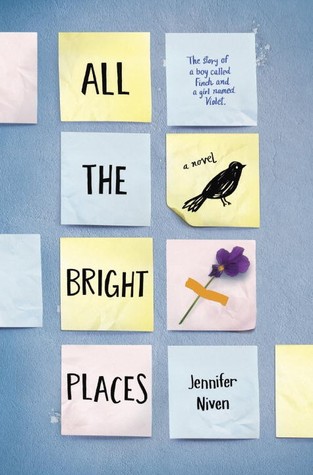 Title: All the Bright Places
Author: Jennifer Niven
Genre: YA, contemporary, romance
Pages: 378
Published: 2015 (UK)
Publisher: Penguin Books
Format: Paperback
Acquired: Bought at my local Waterstones
Rating: ★★★☆☆
Book Blurb:: Theodore Finch wants to take his own life. Violet Markey is devastated by her sister's death. They meet on the ledge of the school bell tower, and so their story begins. It's only together they can be themselves…
But as Violet's world grows, Finch's begins to shrink. How far will Violet  go to save the boy she has come to love?
****
So I have mixed feelings about this book. So much so that I have been putting off writing this review as I couldn't really put my feelings into words. I still can't to be honest, but I thought it was time that I try.
I decided to read this book for personal reasons, and to get a bit more variety in my reading as I hadn't really read much about mental illness. I've been fortunate to not suffer too badly with any mental illness so far, so I really wanted to take the opportunity to read about it and find out more about what goes on behind closed doors. Of course this is a fiction piece so it isn't gospel truth, but I felt it was a nice place to start, as I was hoping to find out more about the emotional side. That, and I've been wanting to try Jennifer Niven's work for a while now.
The book focuses on the relationship between Finch and Violet, who both meet wanting to kill themselves at the top of the school tower. Violet is grieving after the death of her sister in an accident, while Finch (who is suffering with bipolar) has always felt like an outsider and always thinks about suicide.
Finch takes an instant liking to Violet and through planning a Geography project travelling around their state, the two get to know each other better. Not only does their relationship blossom, but their views on life, and death, slowly start to change. But while one world opens, another starts to narrow. This book focuses on the events surrounding these changes with Violet and Finch, and shows that it is about what is left behind that is most important.
****
I did find it hard to fully immerse myself in the story. Don't get me wrong, I really like the premise of the novel and the way the plot progressed. I thought it had a really nice flow and I was really interested in how the book tackled so-called "taboo" subjects like suicide, abuse and depression. The ending was predictable but really emotional- my heart twinged during Violet's visits to the last places on the map to find Finch. ❤
But at times I found it quite hard to get emotionally understand everything that was going on. Sometimes it felt a bit flat and I found it difficult to work out/accept why the characters thought the way they did.
However that is just my personal opinion. I think it could be because mental illness is not something I can strongly relate to/I haven't personally experienced (fortunately). As a result, while it was super interesting to look back on what I read and gain a better understanding of the effects of mental illness, my heart just didn't connect as much as I thought it would.
****
The most interesting part of the story was definitely Finch. I really felt for him, as he had been through so much. I felt that his mental illness was a lot easier to grasp during the story. I found his erratic style changes were a bit strange and I didn't love the overall quirkiness of his personality, but I could really feel for him in terms of his outlook on life. He is such a brave character, and you can see that he really does love life. He tries so so hard to be happy and be content in life it makes my heart hurt for him ❤ On his good days he was so insightful, but even on his bad days I could see that the suicidal thoughts and hiding away was all part of his attempts to regain control, rather than him 'giving up' (which is a common perception of people suffering with symptoms of depression). Despite this Finch has so many internal demons that get in the way, and it was hard to be the outsider watching a slow downward spiral that you can just see what about to get out of control. I just wanted to step in and help the poor baby!
Sadly I didn't relate to Violet as much. I completely understand her reasons for feeling the way she did, but for some reason she fell a little flat for me. I didn't feel like her emotions and reasons for feeling the way she did were explained very well for me, and as such I didn't really notice or care as much about her improvement. However she did step up at the very end, and I am glad that she stayed strong despite each knock-back that appeared the closer we got to the end of the story.
I also have a slight issue with the random sections of the story that talk about Amanda? I mean Violet decided she wasn't going to be friends with Amanda any more as they actually don't have a lot in common. I understand this part of the story as, mental illness or not, sometimes you wake up and realise the friendship you were in was not what you thought it was. However I didn't like how Amanda just popped up during the story without any notice; and when she became a 'plot device' to find about Finch getting help for his suicidal thoughts it irked me a little. The reasons why she found out about Finch felt a little forced, and not a lot of attention was given to her own issues in the end. I mean despite everything Violet really didn't seem to care about Amanda at all? I found this a little strange as there hadn't been a falling out between them as such, but Violet didn't seem to worry about Amanda once she found out what had been going on behind her popular facade. It felt a bit out of place and I think it would have been better if she had stayed in the background rather than randomly becoming a side character every so often.
****
When I was reading other reviews about this book, a common opinion is that these characters are merely personifications of their mental illnesses; and that they take over whatever character development Violet and Finch had. I do have to agree in that the main features of the story and the characters are their respective mental illnesses, but as that is the key message of the book I don't know if it is a bad thing.
On one hand I haven't had much experience with mental illness and while I know it doesn't completely take over someone who suffers with such illnesses, I think it is good that we have YA books that talk about these subjects in such an overt way. It is important that mental illness is discussed and accepted, and the dominance of this subject in these books is a great way to bring more attention to them through fiction. On the other hand, the main things I now know about Violet and Finch is that they both wanted to die, they both are suffering with mental illnesses, Violet likes to write and Finch likes music. That's it. I feel like the characters could have had a bit more development about their general characters, but I am a bit inexperienced and I honestly wouldn't know the best way of doing this without detracting a little from the main message of the story.
****
Overall I did enjoy the idea of All the Bright Places. I found it a really interesting and insightful read, and I did learn a lot about how mental illnesses aren't always how it looks on the outside. I really felt for Finch and although I did predict the ending, it still made me sad.
Phew! I hope this review/rambling makes sense, I told you it was hard to describe how I feel about this novel!
The book was generally an okay read, but it didn't meet my expectations and I wasn't as emotionally invested as I thought it would be. I can see why it is so popular though! It just wasn't completely my cup of tea.
Have you read this book? What did you think? Let me know in the comments! ♥
Rating: