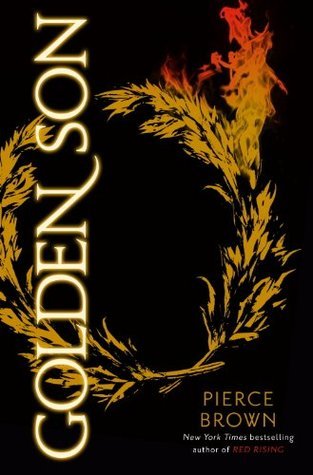 Title: Golden Son
Author: Pierce Brown
Genre: Sci-fi, Dystopian
Pages: 442
Published: 8th January 2015
Publisher: Hodder & Stoughton
Format: Paperback
Acquired: Bought in local book store
Rating: ★★★★☆
Book Blurb:: For seven hundred years, my people have been enslaved without voice, without hope. Now I am their sword. And I do not forgive. I do not forget. So let them think they own me. Let them welcome me into their house, so I might burn it down.
Darrow is a rebel forged by tragedy. For years he and his fellow Reds worked the mines, toiling to make the surface of Mars inhabitable. They were, they believed, mankind's last hope. Until Darrow discovered that was all a lie, and that the Reds were nothing more than unwitting slaves to an elitist ruling class, the Golds, who had been living on Mars in luxury for generations.
Now fully embedded amongst the Gold ruling class, Darrow continues his dangerous work to bring them down from within. It's a dangerous journey that will take him further than he's ever been before- but is Darrow truly willing to pay the price that rebellion demands?
****
Yep, so after reading Red Rising (book 1 of the series), I couldn't stop myself and had to keep going with book 2. I'll try to keep this review fairly short and sweet, as with sequels it is hard for me to make it stand out when so much of the book is a continuation of what I have already read and reviewed (if that even makes sense haha!).
Also note: This is a continuation of a series so there will be spoilers! Read this review if you have already read Red Rising & Golden Son, or if you don't plan on reading the series at all!
****
So Golden Son continues a year or so after Darrow's badass victory in the Institute. He has now been taken under the wing of Mustang's father, the ArchGoverner of Mars, while the rest of his friends/allies from the Institute have been operating on other planets. Darrow has been undertaking the ArchGoverner's requests (despite being involved in Eo's death) and trying to work his way up to earn high favour. At the same time, he has to face members of the Augustus house trying to get rid of him, as well as the politics of the empress Society's Sovereign leader. Of course he also has to hide the fact that he is actually a Red, and his links with rebel group, Sons of Ares.
Without giving too much away, this second book in the series involves outlandish schemes, epic battles, truths and betrayals, in a world where there is discord within the elites as well as between the world classes, in this violent but "civilised" society.
****
Okay, so I'm a bit torn with describing this book. Firstly I do want to say how much I am in love with the storyline. Pierce Brown's writing crams so much in, and I really can't get enough of the world of the Society, and Darrow's plans to destroy it from within. There is so much action- Darrow is always so reckless but his stunts are definitely exciting!
This book did focus a lot more on the relationships- which Red Rising didn't do as often. It is kinda nice to have this perspective, and it was interesting to see how Darrow's web of trust and allies change. You could see how everything was linked together, and how it affects the outcomes of all Darrow's choices (especially when one element in the web is changed); Pierce Brown does an amazing job of weaving all these complex relationships and feelings together while also maintaining the daredevil schemes and action that we loved in the first book.
Compared to the Red Rising, I did feel that Golden Son was a lot less thrilling, despite all the events that too place. It felt a more sluggish than the first book, and although it wasn't as boring as sequels can be, there was a lot more 'talking' rather than 'doing', which didn't always work for me. I think it is because Darrow is now in the society he was aiming for in the first book. Of course his problems haven't gone away, but the goal Darrow wants to achieve is a lot vaguer this time, so it was harder for us to know how well he was succeeding with his rebellion plans. But despite this I do want to point out that Golden Son wasn't boring! I mean, there were plenty of good events; I particularly liked the bits with the Oracles, and the Telemanus family were gold (both literally and with their humour!). ❤
Oh gosh, despite the niggles I just have to talk about those surprises and reveals. There were so many, this book definitely didn't disappoint! Especially that ending– I mean WOW what a cliff-hanger! I couldn't believe what Darrow had decided with Mustang, and then the final clash and events at the end were so unexpected! Things are suddenly revealed and then taken away, it is crazily good. Everything has changed, and I honestly don't know what to expect from the third book now.
****
So, I don't know if you can tell from this review but I am finding it very difficult to accurately describe how I feel about this book. My head's all over the place, and I am so stuck in the world yet I can't write down my feelings, as well as what is good and bad about the book. But honestly? I am loving this series, no matter what niggles I may have.
Golden Son is really interesting. It wasn't as gripping as Red Rising, but it is anything but boring. I love the world that Pierce Brown has created, it is so complex and I always look forward to see how Darrow manoeuvres his way in both Gold society and with Sons of Ares. You can sense that the storyline is evolving and maturing, and it definitely ended on a high. I can't NOT read the third book- Morning Star– now, and I simply can't wait.
Have you read Golden Son? What did you think? Let me know in the comments!
Rating: