Hello everyone! I hope you're well, and happy Easter if you celebrate it! I don't personally celebrate it as a religious festival, but I am current enjoying having time off work to eat chocolate. It's glorious.
So, today I thought I'd bring you an unboxing post. Not just any unboxing post, but a FairyLoot unboxing post! I actually received this at the end of March, but I haven't been able to post about it until today due to work commitments and end-of-the-month blogging wrap-ups.
Now, March's box was a special one- as it was FairyLoot's 1 year anniversary box! Happy Birthday FairyLoot!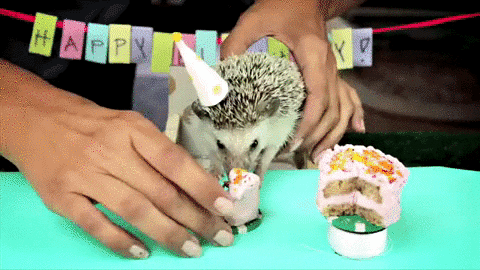 For those who don't know, FairyLoot is a YA bookish subscription service. Every month there is a new theme, and if you buy a box you are send a new release that matches the theme, along with a selection of bookish goodies, often with FairyLoot exclusives too! I love these boxes so much, it is always so exciting to see what surprises have been included. I have only ever bought two of their previous boxes, in September and October last year, but I loved them <3. I had taken a break from their boxes as I either didn't like the theme or that they were already sold out, but when I saw this was a special anniversary box I just had to get it. And it is certainly special in all senses, I mean this box is purple!
The theme for March was Myths and Monsters, for whimsical stories filled with magic and lost mythical cities, along with all things monsters. It sounded really cool, and of course it was made even better as it was a special edition of the box I love ❤
****
So, without further ado, here is what was in March's FairyLoot box!!
NOTE: this is an unboxing post so there will be spoilers- so don't go any further if you are still waiting to receive your box!!
As always, we get a beautiful card depicting the theme of the month, along with a description of everything that is included in the box. This month features a cool warrior and dragon duo, which is right up my street.
Next we have a Nephilim Candle by Geeky Clean.
Here Nephilim is a Black Cherry & Lime soy wax candle. It is a gorgeous red colour, and it smells positively delicious. Seriously, if I didn't know it was a candle I would just want to eat it all up! I rarely burn candles, but I cant wait to use this/add it to my blog photos 🙂
We also got a Mermaid Pocket Mirror by Book Otter. The mermaid was drawn by Book Otter themselves and it is an exclusive FairyLoot item! It is really pretty and I love the colours of it, I'm scared of scratching the mirror side of it though 😛
Next up, this box had the most adorable bookmarks from Bonitismo!
It is a set of two magnetic bookmarks- a dragon and a phoenix. I think the phoenix is my fave, but they are both so cute. I can't stop looking at them, and they will look amazing inside the books I'm reading.
March's box also contained a brand new item- fairy lights!
Like most bloggers, fairy lights are super important, bookish photos just wouldn't be the same without them. These ones are extra-special unicorn ones! The lights are by a company called Mustard, and I can't wait to give this magical set a go.
Okay, so the next item I uncovered in this box is just amazing. It is another exclusive FairyLoot item and it is the first time they have included something like this- a dragon scarf!!
I mean, look at it! ❤ This scarf's design is by GivArt (I'm sorry if the source is wrong- I could find a dragon texture by this artist but I couldn't find a link for any woven products). It has a silver dragon scale design with a FairyLoot emblem, and is made from Balinese yarn. Oh my goodness, guys. This scarf is absolutely wonderful. Not only does it look really cool and unique, but it is a lot warmer and cosier than I though it would be! I'm in love. ❤
We also got a postcard linking to an extract of Fallen (sadly I didn't like this book much), as well as the monthly FairyLoot Scoop. We also got a special anniversary booklet, which was so nice to read! 🙂
****
Okay, okay, I know you are all itching to find out what the book of the bonth was. I had a sneaky suspicion about what the book was, as not only has it had a butt-tonne of hype, but it fits exactly with this month's FairyLoot theme. This month's book was Strange the Dreamer by Laini Taylor!
I adored Laini's Daughter of Smoke and Bone series, so I've always had my eye on any new releases. I will admit that I wasn't 100% sure about picking this up, so I'm kinda glad that FairyLoot have made my choice for me and given me a copy! And OMG, the book is a special UK edition!!! It has blue-sprayed pages, with Laini's signature and artwork on the inside page. It is so beautiful, I just keep stroking the cover ❤
The book also came with and author letter and a postcard (which you can see in the picture above with the Fairy Scoop). There are actually 3 types of postcard available, and I got a gorgeous blue one with flying books (!!!), reading: "Demons and wingsmiths, seraphim and spirits, he loved it all." Which card did you get, if you got a box?
It is so exciting to get my hands on a copy, and I'll include a copy of the blurb for those who don't know what the book is about:
"The dream chooses the dreamer, not the other way around- and Lazlo Strange, war orphan and junior librarian, has always feared that his dream chose poorly. Since he was five years old he's been obsessed with the mythic lost city of Weep, but it would take someone bolder than he to cross half the world in search of it. Then a stunning opportunity presents itself, in the person of a hero called the Godslayer and a band of legendary warriors, and he has to seize his chance or lose his dream forever.
What happened in Weep two hundred years ago to cut it off from the rest of the world? What exactly did the Godslayer slay that went by the name of god? And what is the mysterious problem he now seeks help in solving?
The answers await in Weep, but so do more mysteries- including the blue-skinned goddess who appears in Lazlo's dreams. How did he dream her before he knew she existed? And if all the gods are dead, why does she seem so real?
In this sweeping and extraordinary new novel by The Sunday Times bestselling author Laini Taylor, the shadow of the past is as real as the ghosts who haunt the citadel of the murdered gods. Fall into a mythical world of dread and wonder, moths and nightmares, love and carnage.
Welcome to Weep."
****
And there we have it! I'm super happy with this month's box, not only because it is a special birthday box, but because I was pleasantly surprised by some of the new and exclusive gifts! I'm just sad that it is coming into warmer spring weather, because it means I can't wear the scarf as much 😛
I want to take this time to thank Anissa and Michael for creating FairyLoot. It is clear they put so much effort into these boxes, and I am eternally grateful that they have been providing joy and excitement to so many bookish fans. I can't wait to see what year 2 will bring to the team! ❤
Did you get a FairyLoot box this month? What did you think? Are you looking forward to Strange the Dreamer? Let me know in the comments!