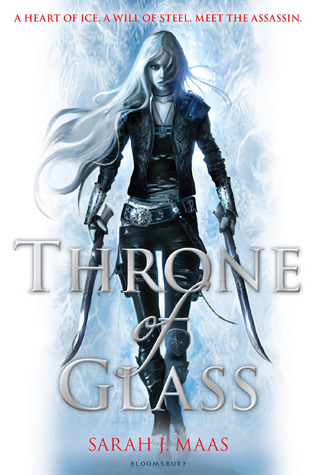 Title: Throne of Glass
Author: Sarah J. Maas
Genre: YA, fantasy
Pages: 404
Published: 2012
Publisher: Bloomsbury
Format: Paperback
Acquired: Bought at local book store
Rating: ★★★★☆ [3.5]
Book Blurb:: Meet Celaena Sardothien. Beautiful. Deadly. Destined for Greatness.
In the dark, filthy salt mines of Endovier, an eighteen-year-old girl is serving a life sentence. She is a trained assassin, the best of her kind, but she made a fatal mistake. She got caught.
Young Captain Westfall offers her a deal: her freedom in return for one huge sacrifice. Celaena must represent the prince in a to-the-death tournament- fighting the most gifted thieves and assassins in the land, Live or die, Celaena will be free. Win or lose, she is about to discover her true destiny. But will her assassin's heart be melted?
****
Yes, I did it. I finally jumped on the Sarah J. Maas bandwagon. I'll tell you a secret: I honestly hadn't heard of this series until I started blogging last year! I don't know where I'd been (probably hibernating in a hole somewhere), but once I started blogging I realised this series was everywhere. I was a bit scared to try it out as a result, but with my book discount at my previous job, there was no harm in giving the Throne of Glass series a try!
So, where to begin with Throne of Glass? Well, this first book in the series is about Celaena Sardothien, an elite assassin. She had unfortunately been caught and was serving a life sentence in the salt mines of Endovier, a horrid place who's cruel practices mean you don't end up surviving for long. However, she is suddenly given a way to get her freedom, by competing in a tournament for Prince Dorian of Adarlan. The tournament involves an array of deadly tasks against other thieves, soldiers and assassins, all vying to win and become the King's Champion. With either this or death in the salt mines, Celaena reluctantly accepts.
However, all is not what is seems. The castle can be a deadly place; as well as tensions inside and outside the tournament, there seems to be a mysterious force killing competitors one by one. Celaena must use all her skills to blend in and survive, while also dealing with her growing emotions regarding the kingdom and its Glass Castle.
****
So there are certainly mixed reviews for this book, with some amazingly high praises as well as some scathing responses. As I result I tried to go into this book with no expectations, just in case. However, I was pleasantly surprised, and really enjoyed this story! I'm always intrigued about fantasies with castles and assassins. 🙂 I was actually expecting it to be a bit cliché and boring, but I ended up loving this; I was totally sucked in.
The plot is really intriguing: with royal politics, competitions, action, romance, mystery and hidden secrets. I cant really go into much more detail without spoiling the story, but it certainly kept me turning the pages! It all worked really well, I thought it was a great mix. There is also an element of magic with the inclusion of the wyrds, and this was gradually introduced into the story. Unlike most fantasy, where magic is everywhere, in Adarlan magic is scarce. When it actually was talked about throughout the story it actually made it a lot more engaging, rather than there being a huge info-dump of the magic system. It was also nice to have a story where the magic was not the key focus, nor the key weapon in a character's arsenal. I'd say the book didn't leave me gripping the edge of my seat, but I still thoroughly enjoyed this one!
The only thing I didn't like as much was the romance (as always). Now, its not the romance was really cringey or anything, in fact I thought it was fine. I mean it wasn't 100% insta-love, so it could have been worse. Its just I didn't feel it was necessary in the slightest! Considering the main premise of the book is a competition to become the King's Champion, romance realllllly didn't need to be in the story at all. There is so much more going on here, and in my opinion its not like the romance progressed the story any further. Knowing there are lots more books in the series, I think it would have been better to have such feelings develop later on, keeping the first book solely on plot and action. But hey, that's just me, I'm a bit picky when it comes to all things love (even more so in fantasy, it seems).
****
Okay, can I just talk about how refreshing Celaena is as a character? She is such a badass character, with a lot of sass. Sure, she is a bit brash for my liking, but it was nice to see a strong female character who stays constant throughout. Thankfully she didn't turn into a whimpering mess whenever a guy walks into her life, which was nice. She always kept her eye on the prize, and was using her assassin qualities to keep her prepared, rather than forgetting about everything and acting like a noble lady. I liked that she was confident, intelligent and aware of everything that is going on in the castle. She holds her own against the male characters, which is great. Despite such qualities it doesn't mean she has no fear; but it was so nice to see a female assassin portrayed in this way.
I can't decide whether I like Dorian or Chaol more though. I always feel sorry for characters like Chaol, because they always seem to have a hidden warm side? However, Dorian is also that friendly prince-type that simply grows on you. I think I'll have to read more of the series to make up my mind!
****
Now, there are some mixed reviews about this novel, with some completely valid points and plot holes. However, I can safely say that this book surprised me, enough so that I don't care too much about any negatives! There's always a bit of hesitation trying a super popular series, but I really enjoyed Throne of Glass. With a badass and capable female protagonist, plots and a smidgen of magic, I'm really glad I picked up this series. I've heard that book one is the weakest book in the set, so I'm pumped to see what book 2 will bring!
Have you read Throne of Glass? What did you think? Let me know in the comments! ♥
Rating: