Title: Traitor's Blade
Author: Sebastien De Castell
Genre: Fantasy
Pages: 370
Published: 2014
Publisher: Jo Fletcher Books
Format: Paperback
Acquired: Bought in local book store
Rating: ★★★★★ [4.5]
Book Blurb:: The King is dead, the Greatcoats have been disbanded and Falcio Val Mond and fellow magistrates Kest and Brasti have been reduced to working as bodyguards for a nobleman who refuses to pay them. Things could be worse- their employer could be lying dead on the floor while the three of them are forced to watch as the killer plants evidence framing them for the murder. Oh, wait, that's exactly what's happening…
A royal conspiracy is about to unfold in the most corrupt city in the world and it could mean the ruin of everything Falcio, Kest and Brasti have fought for. If the trio want to unwind the conspiracy, save the innocents and reunite the Greatcoats, they'll have to do it with nothing but the tattered cloaks on their backs and the swords in their hands, because these days every noble is a tyrant, every knight is a thug and the only thing you can really trust is a traitor's blade.
****
Right, first of all I apologise for the delay in putting up this review! I actually read this book before I went to Japan in April, but I have just been really behind in writing down my thoughts >.< I'm going to try and get everything up-to-date shortly, so apologies!
Back to business: so I originally picked this up in anticipation for the release of De Castell's new series, starting with Spellslinger. I hadn't read any of his work before, but I had heard that Spellslinger takes place in the same universe as that in the Traitor's Blade series. While you don't need to read this series before starting Spellslinger, I wanted to see if there was any important information, or if I would like Sebastien De Castell's style as an author.
I was really intrigued by this book after reading the first paragraph of the blurb above. And let me tell you, as soon as I picked this book up I knew it was for me! This is Sebastien's debut novel and boy, it was SO GOOD.
****
Traitor's Blade is the first book in the Greatcoats series. It tells the story of Falcio Val Mond, accompanied by his best friends/colleagues: Kest and Brasti. These three used to be part of the King's elite army and justice-keepers, the Greatcoats. However, the book begins after King Paelis has already been executed, and the country is instead run by corrupt nobles. The Greatcoats were disbanded, and army split. Falcio, Kest and Brasti remained, but are only able to take mercenary jobs to survive.
While doing bodyguard work for a noble, they are framed for murder. This then leads them to flee to a nearby city and, despite their predicament, Falcio ends up saving a girl from certain death. One thing leads to another, and the trio find themselves unearthing a conspiracy that will affect the current region, as well as their fates.
****
I wasn't sure if I would like this book, mainly because I was worried that the tone of the blurb wouldn't match up to the contents inside. However, I was pleasantly surprised, and thoroughly enjoyed every page. There were so many good points to this book! I loved the tone of this book; it had lots of action, violence, suspense and secrets. A great mix of typical elements in a fantasy that I love. At the same time there was plenty of witty banter to keep you entertained (which is my favourite), as well as some emotional scenes. It seems to have everything, and it works really well. I always love books that can add a sarcastic comment here and there, or has some banter to lighten the mood in a book, so this definitely grew on me! I mean, here are a few examples of De Castell's amazing writing:
"We're going to get a terrible reputation if we just keep travelling across the countryside crying all the time."
*
'Sure,' I said. 'We teach them the first rule of the sword.'
One of the guards, the one closest to Kest, tightened his grip on his pike in preparation for the attack and said jeeringly, 'And what's that supposed to be tatter-cloak? Lay down and die like the traitors you are?'
'No,' Kest said. 'The first rule of the sword is–' His words were cut off as the guard jabbed his pike with the speed of a metal ball flying from the end of a pistol.
'– put the pointy end into the other man,' Kest finished.
I love it. I find that for me, banter adds a lot to the fantasy genre; sometimes stabbiness can get a bit too dark sometimes when you read a lot into the genre. 😛 The tone was just right for me, I had so much fun reading it.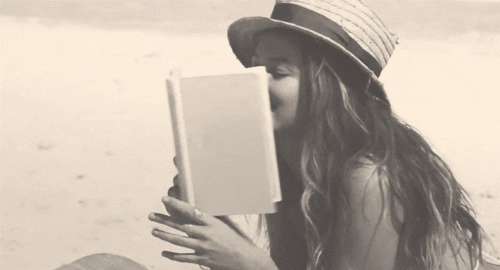 ****
Of course, it's not just the writing that I enjoyed! As I am always a bit sadistic to book protagonists, I loved all the physical and mental struggles of the characters. Grief, pain, torture, I just love seeing characters get hurt and pull through! It makes it very dramatic, I was hooked 🙂 The book had a really nice pace to it, and I loved the ease in which I could immerse myself in the world.
I also loved all the reveals throughout the book, some of them definitely came as a surprise! Towards the end I was so shocked, but in a good way. It made all my happy emotions bubble up for little old Falcio.
The book doesn't really end with a huge cliff-hanger and as such I could be happy leaving the series at book one with the ending it had. Does that make sense? However, I do love Falcio and the author's writing, so I will still continue with the series to see what happens next.
****
I only had very minor issues with this book, which is a plus. Traitor's Blade has its fair share of fight scenes, which are 100% action-packed. Unfortunately I did find the mention of the sword techniques quite hard to follow at times, which meant I couldn't imagine the duels in all their glory. I wasn't as invested in them as I would like to be, but I can't deny that they were still epic battles and fitted the pace of the novel really well. The fights definitely remind me of the BBC Musketeers series, which definitely worked in its favour for me!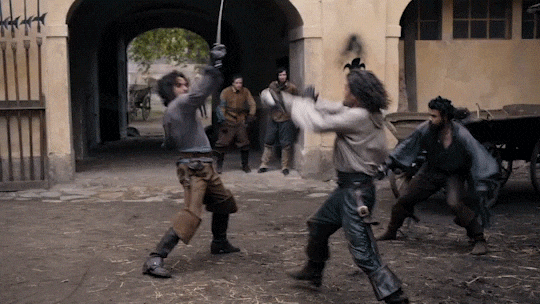 ****
One strength of this book is the characters. They are written extremely well; I feel like you really get to understand Falcio, and you can really immerse yourself into his life. My heart felt for him, especially at the end! I also loved the relationship between Falcio, Kest and Brasti. I'd definitely like to see some more development between these three for future books, but I love their banter and how they work together. They all have different traits and strengths, and it was nice to see the variety mix so nicely.
Aline was also interestingly strong. I'm intrigued to see how she will develop as the series goes on, as it did leave her storyline open for all sorts of things to happen.
It is a shame that King Paeils is dead, as he seems to be a great chap! It was nice to see snippets of his past through Falcio's perspective, and it really helped see how the Greatcoats were shaped with his character.
The old Tailor definitely has to be my favourite character though. I mean, she is so secretive and we don't yet know enough about her or what she knows about Paelis' old plans, but she is so eccentrically brilliant! She made me smile with her strange actions and comments, but I'm worried for her future! I want her to survive the whole series and help the Greatcoats reform, but I have a sneaky suspicion that it may not be the case.
****
Overall I am super happy with this book. It has a really nice pace, with enough action and reveals to keep me invested in the whole novel. I am really impressed with this debut novel, and I absolutely loved the writing and the witty comments throughout. I'd say the writing and the characters made this book what it is. I am definitely going to have to get my hands on book 2 soon!
Have you read this book? What did you think? Let me know in the comments below!
Rating: