Title: Song of the Current
Author: Sarah Tolcser
Genre: YA, fantasy
Pages: 373
Published: 6th June 2017
Publisher: Bloomsbury
Format: ARC paperback
Acquired: Free copy via work
Rating: ★★★☆☆
Book Blurb:: Caro is destined for the river. All she needs is for the river god to whisper her name.
So when pirates burn ships and her father is arrested, Caro volunteers to transport mysterious cargo in exchange for his release. Surely by piloting her own wherry, she will finally hear the river god speak…
But the cargo turns out to be more than Caro expected, and she finds herself caught in a web of politics and lies. With much more than her father's life at stake, Caro must choose between the future she knows and the one she could never have imagined.
****
Note: I received this ARC copy at my old workplace. I used to work in a bookstore, which occasionally received ARC books from publishers, for booksellers to review, etc. This was a spare copy, so I decided to pick it up for a read. I am in no way sponsored by my old workplace or by the publisher, and all opinions are my own.
****
So until I saw this ARC copy at work, I actually hadn't heard of Song of the Current at all. I'll be honest and say that this isn't something I would ordinarily have picked up in a book store, but this debut novel certainly intrigued me with its pirates and gods storyline. Plus it was an ARC copy, so the book blogger in me couldn't help but give it a go.
So this book centres around Caro, who helps man her father's wherry along with Fee, a frogwoman. All those who sail the river have been touched by the river god, in that they are able to "read" the rivers and their signs in order to help them on the water. Caro is desperate to follow in her father's footsteps, but she has not had the river god speak to her to grant her this ability. As such, s so her sailing skills come from practice alone. When her father is arrested, Caro decides to transport cargo on her dad's ship in order to release him. However, the cargo is not what she expected, and Caro instead becomes embroils in a conspiracy that will threatens everything, including her own life. Caro's journey becomes much more risky, and the future she's always wanted may not be the one she needs…
****
I had very few expectations when starting Song of the Current, as this isn't a book I would usually choose to buy/read. And it was a pleasant surprise! I mean, I thought it was very interesting to have a pirate story like this. I haven't read many with female pirates in it, and this one seemed to have a good mix of the YA coming-of-age trope, along with conspiracy, gods and a strong female protagonist who isn't afraid with getting dirty and involved in privateering. There is definitely some drama in this one too, with some reveals that I really wasn't expecting! I also enjoyed the badass monsters, as well as the link between gods, warriors and magic. It was subtly added to the world, and I think it worked really well!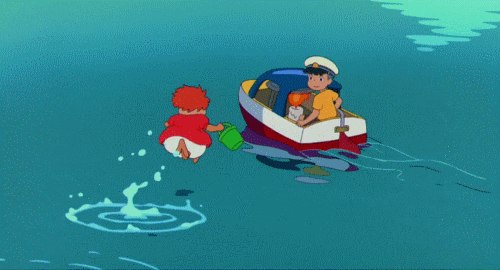 Caro was a great character to read about: she is strong, hardworking, and not afraid to pick a fight when it matters. For those who are interested Caro is also biracial, with separated parents who have a complicated relationship. As well as Caro herself, I particularly liked her relationship with Markos, who appears later on. Their banter is great, and really helps with the pacing of the story (particularly when there is a lot of sailing). I actually wish we had had a bit more info about this relationship at the end, as it ended with a somewhat uncertain future!
There is some romance in this one, but I actually think it was done quite well! It is certainly more of a sub-plot than the key element of the book. It also wasn't an insta-love, and it seemed to just creep up on you. Sometimes I think these are the best kind of romance plots, as it appears to be a LOT more natural in a novel. 🙂
Oh, and the ending was so good! I loved how it all wrapped up, and has some really nice messages about life plans. A certain part of it made me really happy, I have to admit. ❤ This book would actually work well as a standalone, although I think Sarah Tolcser has got book 2 in the pipeline!
****
There were so many things that I enjoyed with this book, and I really didn't have too many issues with it at all! Song of the Current is a sailing-adventure novel, and there is a lot of specific terminology in this, which can be a bit confusing for some. I'm a reader who skips words she is not familiar with and, as long as I can work out what exactly is going on, I don't mind it. For me, the amount of terminology was fine, and I could still enjoy the story without feeling bogged down with all the lingo.  🙂
Despite all this, here we enter a dilemma. As you can see, on paper this book is great. It has a great mix of plot and characters, conspiracies (which I love), adventure and gods. I don't have anything bad about it to say, really. However, I personally didn't feel very invested in  the story, even before I started reading it (which I guess is a sign in itself). Even now, a few weeks after reading it, I just don't care about the story at all! 😦 It didn't leave a bit impression on me, even though I know that the book isn't terrible. It is the main reason why I can't rate this too highly, as this is an important thing for me. This is definitely one of those 'it's not you it's me', moments, I'm sorry!
****
Despite the lack of my personal investment, I honestly don't have anything bad to say about Song of the Current. It is a great debut, and has some lovely characters. What a wonderful swashbuckling adventure, with plenty of reveals and drama to keep you reading! Definitely worth giving it a go!
Have you read this book? What did you think? Let me know in the comments!
Rating: