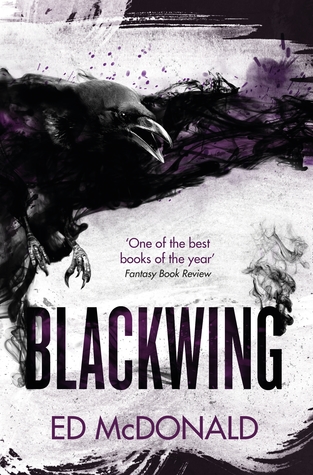 Title: Blackwing
Author: Ed McDonald
Genre: Fantasy, Grimdark
Pages: 435
Published: 27th July 2017 (UK)
Publisher: Gollancz
Format: Paperback (ARC)
Acquired: Received at OrionBlogFest event
Rating: ★★★★☆
Book Blurb:: The Misery is a wasteland: a dangerous, corrupted frontier between the Republic and the Deep Kings.
When traitors, thieves and spies try to flee they run for The Misery, and often as not it's Captain Galharrow's job to bring them to heel beneath the fractured skies- provided they haven't already fallen prey to the twisted creatures that inhabit the shifting, polluted sands. It's a deadly place, even for a man of Galharrow's experience.
But it's a necessary place. Because the Republic's only other defence against The Deep Kings is Nall's Engine, a weapon of incomparable power that protects the wasteland's border. As long as it doesn't start to falter…
****
Disclaimer: I was very lucky to receive this book at the Orion Blog Fest in April. Thanks to Stevie and the team at Orion and Gollancz, I'm so grateful to be allowed to attend, and to receive an ARC copy of this book! Although I received this through a blogger event, all opinions in this honest review are my own.
****
Okay guys, I've actually been super excited for this one, mainly because it is a UK grimdark fantasy debut! I always get really excited when I read a new fantasy release, I feel so 'hip' and up-to-date with the bookish community (even though I am so far behind for other big fantasy names, haha). And wow, what a debut! This was super interesting, and a really refreshing take on the grimdark fantasy genre 🙂
Now, when I usually write reviews I like to write my own little summary/blurb of the book, but Blackwing has so many elements to it it is quite hard to make it concise for you! But I'll give it a go…
Blackwing takes place around the borders of a post-apocalyptic wasteland known as The Misery. Created as a result of a huge blast from a machine known as Nall's Engine, The Misery is a bleak and broken land, and a constant reminder of a war against humanity. With a wailing, fractured sky and a host of gruesome monsters with a penchant for killing, The Misery is also the land where the Deep Kings lie; ancient and immortal beings amassing armies in order to once again try and destroy humanity. But what happens if Nall's Engine, the only thing that can hold the immortals back, may not be working as it should?
This is where our protagonist Captain Galharrow comes in. Galharrow is a bounty hunter, bringing back outlaws who have fled into The Misery. He is also a Blackwing, a captain linked to one of the Nameless called Crowfoot. The Nameless are the other side of The Deep King's coin: people who are immortal, magical and, for the large part, elusive. Galharrow hides many secrets regarding his relationship with Crowfoot, but his role as a Blackwing does give him perks as a bounty hunter. Until, that is, when Crowfoot suddenly starts giving him cryptic orders. One such order is simply "SAVE HER", with no indication as to who 'she' is! With this Galharrow and his closest comrades- ruthless (but noseless) Nenn and navigator Tnota- come across old friends, immense magical power, and a conspiracy that could destroy the fragile balance that is holding humanity's border together….
Okay, so even those paragraphs can't do this book justice! It is jam-packed with so much more than that, but I don't want to give too much away. JUST READ IT.
****
Okay, first of all, I have to commend McDonald on the sheer originality of this world. I mean, at first glance it doesn't sound like it should make any sense, as so many things are brought together: swords, guns, steampunk-esque machinery, apocalyptic wastelands, magic, gods… I honestly can't think of what's missing (maybe a dragon?). But, it works. The elements don't seem to clash with each other, and I admire the author's talent to weave it all together so effortlessly (even more so as it is a debut novel).
The Misery is certainly creepy though. I did find it hard to imagine at first, but I think it is because it is so different to anything else I've read. I think it was the notion of a fractured sky that threw me off the most. But overall it was an amazing feature, and definitely NOT somewhere I'd like to visit. I mean, even the grass can kill you.
Speaking of things that can kill you, the creatures in The Misery were so unique, and oh so creepy. With man-eating creatures that repeat a weird selection of sentences, gruesome insects and apparitions of those you hold dear, it is easy to grasp the horror this tainted world can bring. And of course, some of the biggest threats in The Misery are influenced by the Deep Kings. If you are marked by one, you essentially become a misshapen living zombie in their army. Or alternatively, and possibly the most disturbing creature in my book, you could become a Darling– an unforgiving creature with a child-like appearance and immensely destructive magical abilities. No thanks!
I'll admit that I would have liked a bit more information about the Deep King's themselves, as I couldn't really imagine what they looked like (although it is possible that I forgot this part). All I can remember is that one of them smells like death, but I couldn't really get to grips with the rest. That said, it is clear that so much thought has been put into this world and its inhabitants; I think it is really original and extremely well done.
****
With regards to the story itself, it certainly lived up to its name as a grimdark fantasy. It was messy, bloody and bleak, just how I like it 🙂 I think it is a good kind of grimdark fantasy, as it is not overly gruesome for the sake of it. I do love reading novels where everything seems to go against the protagonist and the cause, I'm just mean like that ❤ And it is chock-full of strong plot points that all add up to a conspiracy and shock revelations! I predicted some of the outcomes with 'the villains', but the events at the end completely took me by surprise! It was so gripping, very dramatic and unexpectedly emotional. What I also liked about Blackwing is that although the events are dismal and not pretty in the slightest, there is still that glimmer of hope that makes you connect so much. It's worth mentioning that there were some slower-paced elements within the book, but overall it was a very interesting read.
****
There are so many characters, and what's nice is that they all have their flaws. It is so relatable and really helps with the 'grimdark' vibe. It was also nice that there were diverse characters dotted throughout- with different ethnicities, sexualities, disabilities, etc- but their diversity was not their only identifiable feature. It felt so natural, which is just how diversity should be 🙂 Oh, and I liked how women can be princes and generals, and not dainty princesses without any power 🙂 Great job!
I wont go into too much detail about all the characters though, but I wanted to add a little appreciation section about a few notable ones:
Galharrow is my fave. This is to be expected, as I tend to like characters who have a rough time, haha! He has a drinking problem and has faced some hardship in his time, but you can also see his inner strength. In a grim world such as his, it was refreshing to see him care so much about his friends, his love, and his world, even if it did mean he made some really dangerous decisions! I also like his link with Crowfoot because, I mean, a tattoo that turns into a crow is pretty cool (if not hella painful). 🙂
Saravor is just nasty. I mean, he is creepy as it is, but he just oozes danger through the page. I had very mixed feelings when Saravor appeared to 'help' in the latter half of the book, as we all know it wasn't necessarily because he cared about the situation. Every time Galharrow did business with him I just wanted to tell him to run. Despite everything I am intrigued to see what happens with him know, after his last payment!
I really liked Nenn's no-nonsense badassery and her banter with Galharrow. She was really strong, and didn't mind getting right in the thick of everything. She did end up taking a bit of a back seat with Ezabeth arrived which is a bit of a shame, but I mean, at least she didn't die!
****
Wow, all in all Blackwing is one hell of a debut. The world-building is so unique, with a host of creatures and grim details that really illustrate an apocalyptic fantasy. I really enjoyed the plot, and it only got better as more and more details appeared. I'll admit it is not one of my personal favourites, but I am honestly impressed by this book and I can't wait to see what else Ed McDonald can do.
I don't think my review can do it enough justice though, so I'd advise giving it a read! 🙂 Oh, and Blackwing is actually released in the UK today (27th July 2017), and released in the US on 3rd October!!
What do you think of this book? Have you read it yourself? Let me know in the comments! ♥
Rating: