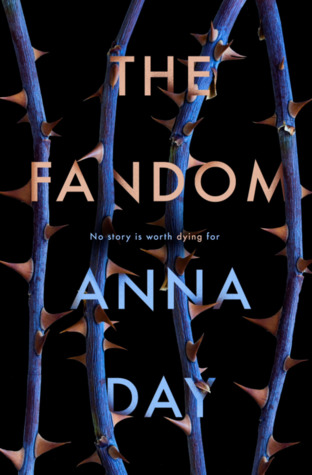 Title: The Fandom
Author: Anna Day
Genre: YA, contemporary/fantasy
Pages: 336
Published: 2016 (UK)
Publisher: Chicken House
Format: Paperback
Acquired: Receive a copy at YALC 2017!
Rating: ★★★★☆ [3.5]
Goodreads Synopsis:: Cosplay ready, Violet and her friends are at Comic-Con.
They can't wait to meet the fandom of mega movie, The Gallows Dance. What they're not expecting is to be catapulted by freak accident into their favourite world – for real. Fuelled by love, guilt and fear, can the friends put the plot back on track and get out? The fate of the story is in their hands …
****
Disclaimer: I was very lucky to nab an ARC copy of this at YALC 2017 , as they were giving away limited copies each day. That said, all opinions in this review are honest and 100% my own.
Quick confession time: when I went to YALC I didn't know anything about this book at all, so didn't really care too much about it at the time. But an ARC is an ARC, and I am always nosy enough to still be interested in trying out a new story (it was the perfect opportunity too as it was free). As such I went in to this one knowing nothing about it, and I was actually pleasantly surprised by it!
**
The Fandom is about a girl named Violet, who attends Comic-con with her younger brother Nate and her best friends Alice (gorgeous and popular fan-fiction writer) and Katie. Violet, Nate and Alice love a dystopian story-come-mega-movie called The Gallows Dance and know everything about it, both in canon and in fanfic. Along with Violet's other close friend Katie, the group all dress-up as their favourite characters from the book/film to go and see their favourite character, Willow.
Without going into too much detail, The Gallows Dance is a take on a typical YA dystopian. There are two types of people: Gems, who are genetically enhanced and perceived as superior, and Imps, who are typical humans at the lowest caste of society (and in the Gems' eyes, 'flawed'). Its main plot involves an Imp rebellion trying to overthrow the Gem system, and one Imp finding love in the process.
While meeting the actor who plays her favourite character Willow, Violet and her friends are suddenly transported into the world of The Gallows Dance… and mess up the plot they know and love. With love, guilt, and fear, can they get the story back on track and escape? Or will they die trying?
****
As I mentioned earlier, I really didn't know anything about this book before I grabbed a copy at YALC. It also wouldn't be a title that I would usually pick up either- I can't say I'm a superfan in anything (I guess Pokémon would be the closest thing but even then I don't go to events/buy huge amounts of merch) so the idea of The Fandom seemed a bit cringey and didn't originally appeal. But in the end I did enjoy it a lot more than I expected! 🙂
Okay so I just have to put it out there- isn't The Gallows Dance such a cool name! I love it, and I loved the concept behind its title too 🙂 I can definitely see how it would work as its own publication (especially in the hype of the dystopian novel-come-film). Actually, I really liked how Anna Day used this hype to create The Fandom. I mean, the book summarises a typical YA dystopian-romance in just a few pages, it did make me laugh at all the clichés that the main characters were aware of.
I also liked how The Fandom used these tropes to their advantage; sometimes deviating away from them and exposing their meanings for both Violet and the reader. There were some things that Violet loved in the book/film, but her opinion completely changed throughout her experience. I thought this was nicely done!
I also felt the pace was really good in this novel, or at least it was as soon as the characters entered the world of The Gallows Dance. I can't say it is my favourite story in the world, but it was a nice easy read- and I got into it pretty quickly! Definitely ended up getting a bit addicted to the world to be honest, every time I put it down I was looking forward to the next time I could read again just to learn more about The Gallows Dance.
And oh my gosh- the second half was so dramatic!! It was really tense, there were some unbelievable scenes- especially with Nate! There were definitely some twists and turns throughout, and the threat of falling out of canon really kept the intrigue alive. I will say I didn't like the ending- it felt a bit rushed… although the last line made me happy! 🙂
****
Throughout The Fandom there are a mix of characters, and it was interesting to see Violet's impression of them compared to the canon of the novel she loves. I did like Willow and how he was used in the plot, the changes were really interesting. Ash was lovely too! Actually, Ash was generally a good egg in my head, he didn't get too angry/possessive over unnecessary things that much, which I find it a cliché addition to a lot of typical YA novels. I definitely felt for him towards the end a little~
Violet is the main character of this story, which is something she loves and loathes. I cant say I completely like Violet as a character, she was negative all the time. I mean sure, it is probably realistic given her situation and newfound surroundings, so she is entitled to be so scared and uncertain about things/herself, but it did drag a bit. I think it's mainly that I didn't really relate to her very well, so I didn't empathise much with her situation (although the ending was a lot better). I did like Violet and her relationship with Nate- he was such a cutie! He really knew what to do, and his story was always exciting (and dramatic).
I have to say, Alice's arc did surprise me a lot- I didn't expect her to choose that path at all! It certainly added some suspense, let me tell you! It certainly spiced things up, although I will say that I didn't like her ending though; I would have preferred it if she had kept the same narrative throughout.
****
All in all, The Fandom was a really fun read. I did enjoy the world of The Gallows Dance and, while I didn't fall in love with the story or Violet, it was enjoyable all the same. With superfans, coming of age, love and lots of surprised, this book was such a pleasant surprise. It's not my favourite, but it was a nice easy read and I would definitely recommend it!
Have you read The Fandom? What did you think? Let me know in the comments!
Rating: