Hello everyone, and happy Monday!
I hope you're all doing well and had a great weekend 🙂 Monday means another bookish post from me, and it's one of my favourites- a book haul! ❤ I love love love book haul posts- they get me so excited about books and the bookish community 😛
I actually haven't done a book haul since October. I don't like adding books to my TBR piles in my room until I've hauled them, and I have a lot to catch up on this time!
Also, this is a bumper haul- and an added disclaimer here: I have books I have bought when on holiday in New York, books I received from my birthday/Christmas, and other purchases or special offers I have picked up in the last 2-3 months. I'm not trying to brag about the amount of books I have or anything like that. I love looking at other people's hauls myself, and I just want to share some bookish love with you all. And who knows, maybe some on this list may inspire you to add it to your own TBR one day!
Right, this post is going to be fairly long as it is, so let's get stuck into this book haul! 🙂
****
New York
My Lady Jane by Cynthia Hand, Brodi Ashton and Jodi Meadows
I was so excited to get my hands on books in New York- mainly to get books or covers that aren't available in the UK. This one was no exception! I have been wanting to read My Lady Jane ever since it's release, but the UK cover is disgusting compared to the US one (see the link above). So of course this was the first thing I picked up! There have been so many good reviews for this book and it is supposed to be really funny, and I cant wait to try it (while staring at the cover for hours on end, of course)
They Both Die at the End by Adam Silvera
This is another book I had to buy in the US because of its cover- I mean, it's so gorgeous!!! I actually haven't read an Adam Silvera book before, but everyone raves about this work, so I'm looking forward to giving his stuff a go. They Both Die at the End looks like it could be an emotional one too- where two teens are trying to live their last day on Earth to the fullest.
The City of Brass by S. A. Chakraborty
So this one was another cover buy? I have seen a lot of hype about this Egyptian-esque fantasy book- especially when they were giving exclusive ARCs at YALC- but this book doesn't come out in the UK until March 18. I am so, so excited for its release, buuut I had a look and I preferred the US cover MUCH more. So when I got to NYC and saw this book already published with its glorious cover, I had to pop it in my basket 🙂
The Gentleman's Guide to Vice and Virtue by Mackenzie Lee
Not gonna lie, this book was on my 'to-buy' list before I even flew out to NYC! It isn't readily available in the UK, and I didn't want to buy it on Amazon as I knew I was flying out to the States anyway. This one has been so popular recently, and I am so excited to read it myself. I mean, a LGBT historical fiction with lots of fun and shenanigans? I'm ready. 🙂
Birthday/Christmas Gifts
Spellslinger by Sebastien De Castell
I have been wanting to read this book for the longest time, as it sounds right up my street! Plus, the cover is gorgeous too, which helps 🙂 With magic (or lackthereof), cons, tricks and de Castell's typical humour found in his Greatcoats series, I am hoping this is everything I want it to be. It's a hefty hardback so I know this'll be one to read when I get home after work haha (although I have recently seen the paperback in stores and I'm slightly kicking myself as it would be easier to carry).
Chronicles of Ixia Study series by Maria V. Snyder
My brother kindly gave me these books for Christmas! ❤ I'll admit that when I read Poison Study and loved it, I went straight out to buy books 2 & 3- Magic Study and Fire Study. Buut, this set of books 1-6 my brother bought cost less than if I had bought books 4-6 on their own- £15 instead of £45 from The Works- so it's a no brainer really (if anyone wants my spare books 1-3, let me know)!! Can't wait to continue this series ❤ My only question now is, do I need to read the Glass series that was published in-between the Study books?
Other Physical Books
Crooked Kingdom by Leigh Bardugo
Yes, I finally got the final instalment of the Six of Crows duology. I love the whole vibe this series has, but for some reason I couldn't bring myself to buy Crooked Kingdom until now. I'm interested to see how everything turns out though- I've heard there are some really shocking moments!!
Invictus by Ryan Graudin
I've been slowly increasing the amount of sci-fi on my bookshelf (I previously steered well clear of it for absolutely no reason at all), and this one really appealed to me! I'm intrigued in the race through time travel, and I'm hoping it is going to be a thrilling one! Plus, I'm a sucker for nice covers 🙂
Bound by Blood and Sand by Becky Allen
I've had this book on my wishlist for over a year now, and I saw a cheap deal for a pre-owned copy online and felt it was the right time to give this a go. I am intrigued by the idea of a slave suddenly having magic to save, or destroy, the kingdom she is bound to. I'm hoping it fulfils its potential!
This Mortal Coil by Emily Suvada and All The Crooked Saints by Maggie Stiefvater
Okay, so I actually received these two from my work, which is why I have bundled them together. There was a loose ARC of This Mortal Coil which someone had finished with, and as it has been on my November Anticipated Releases list last year I knew I had to grab it. All The Crooked Saints was given to me by my colleague who had ordered the stock in (I work in publishing), and after having it sit on my desk for a while I decided to take it home 🙂
Iron Gold by Pierce Brown
IT'S FINALLY HERE ❤ I think this is my first bookish pre-order in years!? This book was published on the 16th Janaury so this is my latest addition in the haul. I adored the Red Rising series when I read it last January, so I knew I need this book in my life. It continues the saga with both new and old characters, and I am so so excited to see what direction it will take. Plus I ordered the Waterstones special edition with black sprayed edges– it's so pretty (and such a huge book omg). I've heard it's Brown's best yet, so let's wait and see! ❤
Ebooks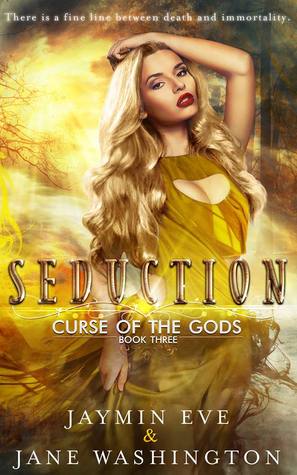 Seduction by Jaymin Eve and Jane Washington
So this was released in November 2017, and I couldn't help but buy it to continue this Curse of the Gods series as I did enjoy the first two books way more than I was expecting. It is a guilty pleasure of mine as it is a reverse harem and all the hints of wrong suggestions, but I do enjoy the story itself! I'm intrigued to see what's going to happen with Willa and the brothers~
Winter's Fairytale by Maxine Morrey
Okay, I actually downloaded this in December so I could read something festive before Christmas, buut I never got round to it >.< It was free on Amazon, and I will definitely try to read it next Christmas, but it is nice to have a festive addition to this book haul 😛 It looks like a cute read at least!
A Throne for Sisters by Morgan Rice
Another book that was free on Amazon- but it had actually been on my potential wishlist for while! I always like fights for a throne-type stories, and you cant go wrong with a free book in this genre! 🙂
Pieces of Her Soul by Serena Lindahl
Another reverse harem treat! This one looks to be less incestuous (thankfully), but I do love a reverse harem story as a guilty read. As it is more of a guilty pleasure I actually don't have any other thoughts on it, buut I'm hoping its a good read regardless!!
****
Phew, we made it! If you managed to get through this whole post, have a cookie on me! 🙂 I am super excited to be able to add these books to my collection. The only downside? I already have piles of unread books to get through first! This is a rather large haul, but my justification is that it is 3 months worth of purchases, plus it also include books from the festive period and holiday treats- so it's not as bad as it looks (maybe).
Have you read any of these? What was the last book you bought? Let me know in the comments!