Hello, and happy Monday!
As the title suggests, I'm here today with an Anticipated Releases post~ ❤ For those who may be new and don't know, every month I like to scour Goodreads and the web and make a list of the books I'm most looking forward to being published that month. As I am a UK blogger I do tend to stick to UK release dates as much as possible. Some books are delayed in the UK, so if you think I have missed a really important release, it could be that in the UK it comes out at a different time (or I'm just not interested in it, w/e)!
And wow, there were so many choices for June! I had a few firm favourites, but for the rest of the list I found it really hard to make a decision! I had some I was intrigued by, but I couldn't work out in my head which ones I felt a slight interest for and which ones could I call my most anticipated releases. BUT after a lot of thought I have made my choices 🙂
Without further ado, here are my most Anticipated June Releases: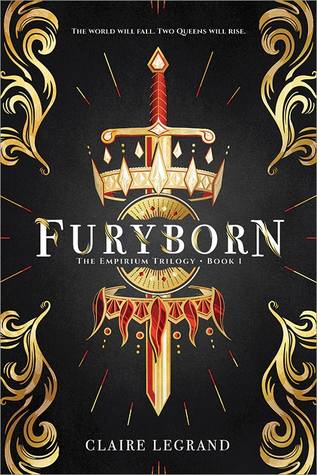 1. Furyborn by Claire Legrand~ publication day: 1st June 2018
Okay, so I know this book was originally published in May, but the UK publication date was set as 1st June, so I had to wait until this month to add it to my Anticipated Releases list! I've heard a lot of good things about Furyborn, and I am intrigued to see how the book deals with intertwining timelines! With such a beautiful cover too, I really hope this is good, I'd love to get my hands on it! 🙂
2
. Little Do We Know by Tamara Ireland Stone~ publication day: 5th June 2018
When done well I do love a book about friendships, so this one really intrigued me. I like the fact at how lose the two characters are, both emotionally while they were friends and literally as they live so close! I'm super interested in all the secrets and how everything between Hannah, Emory, and even Luke all fit in.
3. Running with Lions by Julian Winters~ publication day: 7th June 2018
First of all, how nice is this cover?! 🙂 With June being Pride Month (and the football World Cup if you like that sort of thing), I thought it only fitting to add this on to my Anticipated Releases list. This is a gay romance novel set at a football camp, with an enemies-to-lovers storyline! I don't usually like sports-related books, but if the characters are done well I think I could like this one.
4. The Mermaid by Christina Henry~ publication day: 19th June 2018
YES PLEASE. So I've had my eye on Christina Henry since I read her amazing take on Peter Pan- Lost Boy. When I saw this was getting published, I was a teeny bit excited! ❤ I'm hoping this one will have the same dark undertones as Lost Boy, I can't wait to go out and pick this baby up! The Mermaid is a retelling of The Little Mermaid, where she gets ensnared by the American Museum as an attraction. Definitely my most anticipated release of the month~

5. You Were Made for This by Michelle Sacks~ publication day: 28th June 2018
Thrillers always have such interesting premises, but I try not to read too many so they don't become too predictable. But I really like the sound of this one! I'm really intrigued about what the secrets could be within such an ideal family in an idyllic setting, the Goodreads synopsis doesn't give anything away 🙂 Hopefully this will be as good as I am expecting!
****
As always I do like to include an additional 5 that I am intrigued by, so here are a few more interesting books being released this month:
.  Released 7th June  .   Released 12th June  .  Released 12th June .
.  Released 14th June   .   Released 19th June . 
****
And those are my Anticipated Releases for June 2018! I was surprised that I couldn't find too many fantasy titles this month, but I guess summer is where contemporaries kind take priority (gotta get those sunny vibes, right?). There are certainly some good'uns on this list, my bank balance is already crying at me as I know I'll have to buy a few of these new releases, at the very least!
Are you looking forward to any of these books? Are there any that I've missed? Let me know in the comments!