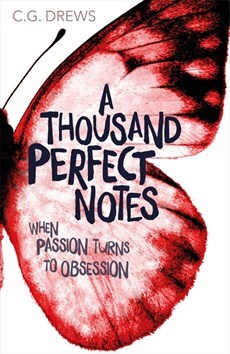 Title: A Thousand Perfect Notes
Author: C. G. Drews
Genre: YA, contemporary
Pages: 282
Published: 7th June 2018 (UK)
Publisher: Orchard Books
Format: ARC
Acquired: Received at work
Rating: ★★★★★
Goodreads Synopsis:: An emotionally charged story of music, abuse and, ultimately, hope.
Beck hates his life. He hates his violent mother. He hates his home. Most of all, he hates the piano that his mother forces him to play hour after hour, day after day. He will never play as she did before illness ended her career and left her bitter and broken. But Beck is too scared to stand up to his mother, and tell her his true passion, which is composing his own music – because the least suggestion of rebellion on his part ends in violence.
When Beck meets August, a girl full of life, energy and laughter, love begins to awaken within him and he glimpses a way to escape his painful existence. But dare he reach for it?
****
Oh. My. Gosh. I have been blown away by A Thousand Perfect Notes, it was amazing!! ❤
This is a debut novel by fellow book blogger Paper Fury. She has such a passion for writing and has shown snippets of some of her other works on her blog, so I was really happy for her when she announced her book deals with Orchard Books. I did like reading extracts of her other projects whenever she posted them, but I'll admit I was still really nervous about reading A Thousand Perfect Notes. I mean, this book has a lot of hype in the bookish community, but I didn't know if this was due to a blogger bias making a debut seem better than it was? So I did have quite low expectations going into this (sorry Cait) and I didn't think I would like this story at all.
However, I decided to give this one a try and I AM SO SO GLAD I DID. ❤ A warning though, this does feature mental and physical abuse as a central theme, as well as depressive/self-harm thoughts, so bear that in mind before picking this one up.
****
So, A Thousand Perfect Notes centers on Beck – a teen pianist coming from a famous musical family – and his relationship with the piano and his mother. Beck himself is a talented musician and his head is full of his own compositions, but his relationship with his mother forbids him from exploring this musical path. Beck refers to his German mother as The Maestro, due to her obsession over the piano classics and her strict attitude in maintaining Beck's practice. In fact The Mestro is so overbearing and abusive that Beck is fearful of her, and has grown to resent piano practice.
When Beck is made to team up with quirky and optimistic August, their contrasting perspectives on life allow Beck to truly reflect on his talents, and his family's future. But will he be able to escape from his own prison?
****
First thing I want to say is that I read an ARC edition of this book that was left over at my office. I know that when the ARCs were printed they were missing some important edits that C.G. Drews made to the book, particularly with August and her friends/family? I did try to find the original tweet to back that up but failed miserably, so don't quote me on that. But as such I won't really talk about August's lifestyle too much, just in case it was changed a lot in the actual book!

Anyway, down to the good stuff. This book was unbelievably good, way better than I expected. ❤ Beck is undoubtedly the star of the book, I adored him. I was completely sucked into his life, in fact I devoured the whole book within a day as I loved him so much! He was always on my mind, even when I wasn't reading; it's been a while since I've had a book do that to me, let me tell you. The pace was also really good, which kept me reading this one without ever feeling tired. I don't think I can really do this book justice when describing, but I was hooked. I didn't think I'd like a musical-based story, but C.G. Drews and her way of writing definitely proved me wrong.
Poor little Beck, he's so broken and I just want him to be happy! He 100% made the book for me, I felt for him the whole way through. He is such a sweetie with his sister and with August, despite going through a rough time, and OH MY GOD the climax was so heartbreaking!! I almost cried on my way to work, it was so shocking and yet so good. ❤
The storyline was really good in the end and flowed really nicely, but I have to admit the main reason why I loved A Thousand Perfect Notes so much is due to how well the emotions were portrayed. I could really understand the feelings of fear and constant manipulation the Maestro has created, it made everything believable and even more heartbreaking. I became so invested in the characters, particularly with Beck. As you may have gathered, he completely stole my heart and so I was so engrossed in his life. This book now has a special place in my now broken heart, well done Cait/Paper Fury ❤ ❤
****
While Beck is most certainly my favourite bit of the entire novel, I do think the relationships with the other characters are still really nice. August and her family were such a breath of fresh air. I don't completely understand her way of life and there may be a few stereotypes in there, but I think she blended with Beck really nicely, and was definitely that ray of sunshine that made everything happen. Plus I feel like her determination really helped Beck see what life could be, so I am glad her kindness and persistence paid off. Her parents are super nice too, if a little eccentric!
But the Maestro- god she was horrible! I mean, excellently portrayed, and you can really see how she has made such an impact on Beck's life, but gosh she was so bitter and so oblivious to everything she has done. Every time something happened I just willed Beck to tell someone and get things sorted out, but you can also see how things got so complicated and turned out the way they did in her life. The Maestro puts a family dynamic in such a  precarious position, and I think it worked really well.
****
All in all I am so so glad I picked this book up. I still have a bit of subconscious bias/dislike which I cant quite seem to shift, even though the book was excellent. I think it is because of the amount of hype this book had just because Cait is a idolised book-blogger. I mean I now know the hype is 100% deserved, but my brain is taking a long time to finally get that negativity out of my head.
But anyway, the truth of it is that A Thousand Perfect Notes is a stunning debut. With a gripping plot that played with my emotions, this book enthralled me right to the last page. Beck stole my heart and I want to take him away and keep him safe. I adored this book so much, and all I want to do know is reread it straight away!
An amazing debut, full of heartbreak and gripping emotions that went way above what I was expecting. A wonderful read ❤
Have you read A Thousand Perfect Notes? What did you think? Let me know in the comments! 
Rating: