Hello everyone!
It may come as no surprise to you lovely readers, but I am seriously behind with my reviews. I have a few books that I have finished a few weeks or months ago and have put aside to write a full review later. However I do have quite a list growing, and so I have decided to cute some losses and instead make a few of them into mini reviews.
I actually had a hard time choosing which books from my read list should become mini reviews, so instead I kept it quite recent and decided to include reviews of two books that I have actually read this month: That's Not What Happened by Kody Keplinger and Seduction by Jaymin Eve and Jane Washington.
I hope you enjoy! ❤
****
Title: That's Not What Happened
Author: Kody Keplinger
Genre: YA, contemporary
Pages: 384
Published: 28th August 2018 (UK)
Publisher: Hodder Children's Books
Format: Paperback
Acquired: Found a spare copy at my workplace (haha)
Rating: ★★★★☆ [3.5]
Book Blurb:: It's been three years since the Virgil County High School Massacre. Three years since my best friend, Sarah, was killed in a bathroom stall during the mass shooting. Everyone knows Sarah's story–that she died proclaiming her faith.
But it's not true.
I know because I was with her when she died. I didn't say anything then, and people got hurt because of it. Now Sarah's parents are publishing a book about her, so this might be my last chance to set the record straight . . . but I'm not the only survivor with a story to tell about what did–and didn't–happen that day.
Except Sarah's martyrdom is important to a lot of people, people who don't take kindly to what I'm trying to do. And the more I learn, the less certain I am about what's right. I don't know what will be worse: the guilt of staying silent or the consequences of speaking up . . .
****
I have to admit, I'm not usually one to pick up current/politically charged books like this, but I know there has been quite a few people talking about this one on the blogosphere, so I saw a spare copy at my workplace and decided to give it a go. It helps that I have liked Kody Keplinger's other work in the past!
And gosh, this is SO relevant in today's society, particularly in the US with their gun debate. I think I appreciate this more because it focuses more on the aftermath of a school shooting, both dealing with the loss as well as the effects of media on a given narrative.
It took a while for me to get used to the format of That's Not What Happened, as it uses stories and letters to get the point across, but once I did I read through this really quickly and enjoyed it a lot! The secret surrounding Sarah was really intriguing and definitely helped keep the pace alive in the first half 🙂 After the reveal I was thankfully still invested in the story as I enjoyed learning about all the survivors and how they all fit with Lee's project. I think my main issue with Lee is her determination and how she pursues this project without considering of everyone else's feelings? It got a bit much sometimes, but given her situation maybe it is a side-effect?
The characters in this book were great; there was a lot of diversity both in the characters themselves and the way they dealt with their our trauma and grief. The coping mechanisms were a really important part of this story, as I feel it is something that can be overlooked in society when something tragic occurs.
It isn't my favourite topic to read in the world, but all in all I did enjoy reading That's Not What Happened. It has a very good flow to it and in the end I did like the use of letters to show a more emotional side of what actually happened during the Ides of March. This book is so relevant in our society at the moment (albeit moreso in the US) and it is so important to broadcast this story about media's roles in creating narratives in such a turbulent time.
Rating: 
****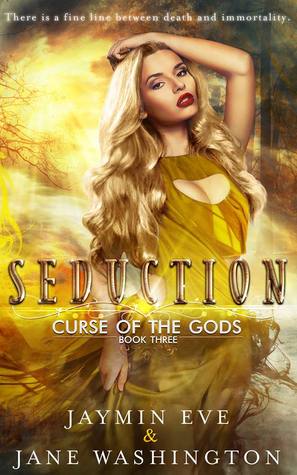 Title: Seduction
Author: Jaymin Eve and Jane Washington
Genre: Reverse harem, new adult, fantasy, romance
Pages: 267
Published: 30th November 2017
Publisher: Self-pub/Amazon
Format: Ebook
Acquired: Bought on Amazon
Rating: ★★★☆☆
Book Blurb:: Willa Knight: Dweller? Sol? Accidental evolutionary hiccup?
Willa has never been a particularly useful dweller: she isn't very good at chores, she isn't very good at worshipping, she isn't very good at not having opinions, and she isn't very good with rules—but none of that matters anymore.
The rules are changing.
The dwellers are trying to make their own way in the world, and Willa can't seem to help getting tangled up in their plans.
Luckily, she has the Abcurse brothers to help her out—until she doesn't, and suddenly she's alone again in a world on the brink of chaos. With the Abcurses gone, she'll have to rely on her wits, and her sister Emmy, to stay under the radar and survive.
Because someone wants her dead.
But, really, what else is new?
****
So Seduction is book 3 in the Curse of the Gods series, featuring Willa Knight and her relationship with the Abcurse brothers. I read books 1 & 2 last year and enjoyed where the plot was going, so I was excited to get stuck back in.
One thing that I need to mention- this series is a reverse harem, but it is kinda problematic as those involved are all brothers. I do enjoy reverse harem stories from time to time, and books 1 and 2 weren't too bad as there was merely sexual tension to spice things up (which had a 'forbidden love' element to it). I feel like Seduction took the reverse harem up a notch and, as Willa herself even acknowledges, the boundaries were blurred. This means it is more problematic, and I have to admit that it did make me feel slightly uncomfortable (such as the river scene).
Outside of the weird romance vibes though, I am still intrigued by the plot and Willa's origins! I'm super nosy so I cant wait to find out exactly where Willa comes from and what it means for Topia, especially after her meeting with the Panteras! Her arrogance and clumsiness still annoys me haha.
I also cant say there was as much actions as the first two books? It is such a shame, and this novel did fall a bit flat. In general I feel like Seduction isn't as good as I was hoping and didn't keep me enthralled as I was during the beginning of this series. However, Willa's origins are still intriguing and I am in too deep to stop now. This was book 3 and I have 2 more to go so, despite the issues in this one, I know I'll keep reading just to tie up the loose ends!
Rating: 
Have you read either of these books? What were your thoughts? Do you prefer combined mini reviews like this or single, longer reviews? Let me know in the comments! 🙂