The first month of 2019 is over! January definitely felt like quite a long month- I kept forgetting what day it was! But all in all it wasn't terrible for me. It's the first month of a new year so I always feel a sense of anticipation and positivity, despite how long January seems to go on for haha~
Life-wise there's not much to report. Work has been really busy and I can't say I've found my work routine after the Christmas break. The winter months make it really hard for me to get out of bed on time in the morning, can't wait until Spring comes so it gets a bit lighter 😛
Book- and blog-wise though things have been going alright 🙂 I've been trying to read a lot more on my way home from work as in December I tended to use it for sleeping and playing games on my phone. It has meant that I feel a lot more involved in my books compared to before, which is always a plus!
But anyway, let's just get stuck in to my bookish wrap-up, shall we? Here is my monthly summary of January 2019~
****
Books I Read
In my January 2019 I wanted to read Only Ever Yours by Louise O'Neill, along with This Mortal Coil and This Cruel Design by Emily Suvada. I did deviate from the list slightly halfway through the month, but all in all I don't think I did too badly!
This January I read:
Only Ever Yours by Louise O'Neill~ ★★★★☆ [3.5] 
I've always been intrigued to try one of Louise O'Neill's books, and this was a great introduction! It is an exaggeration of one element of our society and turns it into a toxic misogynistic world. It was so addictive to read, but it made me so uncomfortable at the same time! I did find the main character Freida a bit annoying, but given the plot I do think that was the point? It wasn't my favourite read, but it was a super interesting and gripping concept!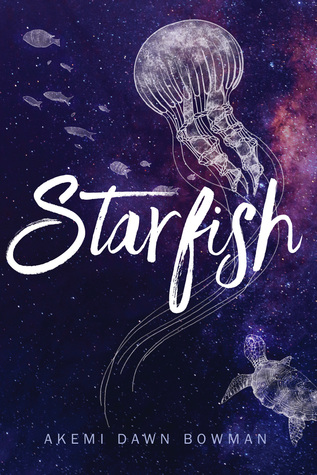 Starfish by Akemi Dawn Bowman~ review TBC
I'd only heard good things about this one, so decided to randomly pick this up! It took a while, but it slowly sucked me in and then I just couldn't stop reading ❤ I loved the growth in this one, I was really invested in all the stories. I do not share the same feelings as Kiko regarding identity and anxiety, but as an outsider looking in it felt like it was done really well. All in all I loved the development in this one, and it was a great read once I got into it! 🙂
This Mortal Coil by Emily Suvada~ review TBC
I did read this book last year too, but Queen of Procrastination here never got round to posting the review. As book 2 was released I decided to reread it to refresh my memory before starting the sequel. I still love this book so much! A super interesting concept, with amazing pacing, I find this story so easy to read! Luckily I had forgotten some of the reveals so it was still exciting to discover what all the little plans were 🙂 Love it- review to come!
****

I am in the middle of reading the sequel to This Mortal Coil, This Cruel Design by Emily Suvada. I've heard it's even better than book 1; I'm almost halfway through and definitely enjoying it. I'll review both books of this series together, so look out for that!
**
I felt like my reading progress was actually pretty good this month! I managed to get through a lot and they were all pretty decent reads 🙂 I always find I read contemporary much faster so it helped get through a good amount of books this month. Let's hope the pace continues for the rest of 2019~
January Blog Posts
December 2018/End-of-Year Wrap-Up
Happy New Year // January 2019 TBR
Anticipated Releases: January 2019!
December '18 FairyLoot Unboxing!
I'm still using my usual Monday post date, and as I had a wrap-up and an unboxing from December to also catch up on I feel like there was a good mix of topics this month 🙂 No book reviews though, whoops! I've also tried to improve on engagement and surprisingly my blog visits for this month is the best my little blog has been (just about!). This was really nice to see and it did motivate me- it's so fun to talk to you guys, so let's continue 2019 being great bookish friends!! ❤
February TBR
February, despite being short, is actually a busy month for me this year as I am going travelling! I am spending 12 days in Sapporo to visit my friend who lives there ❤ ❤ I'm SO excited but it does mean it is unlikely I will be reading very much, haha! That said I'll still make a standard TBR for the month, just in case I have more time than I am expecting 🙂 So after finishing This Cruel Design, I think this February I'd like to read:

Ash Princess by Laura Sebastian~ I do love a traditional YA fantasy, and I feel like Ash Princess might just fit the bill this month 🙂 A fire princess ridiculed and being forced to serve under the rule of the invading Kaiser sounds super cool, and I'm hoping it meets my expectations
The City of Brass by S. A. Chakraborty~ I've been wanting to read this for a while, but I've been scared in case it isn't as good as I've been hyping it up to be (it's been on my shelves for over a year, oops). I mean, a con-woman from Cairo who accidentally summons a djinn? I'm in. I'm tempted to bring this with me on my trip to Japan, but let's see what happens.
Big Bones by Laura Dockrill~ If I don't bring City of Brass to Japan I think I'll bring my Kindle, so I added this ebook on here as a potential option! Plus it's a contemporary about weight (one of my fave tropes), so it might break up all that fantasy!
I didn't want to add too many due to my travelling, and this month I'm fully prepared to be more flexible. It is likely my mood will change and I'll choose other books, but that'ls okay- this list is more a guide anyway! It will be nice if I could read The City of Brass though, it's been so long and book 2 is already out in the world!
****
And there we go, January 2019 is all wrapped up! It did drag a bit but it certainly isn't a bad start to 2019, so let's hope my bookish progress continues 🙂 Plus due to me finally visiting me friend in Sapporo I am super excited for February ❤ The day I arrive though it is about -9 degrees Celsius though- let's hope I don't freeze!!!
How was your January? Did you meet any of your goals? What are you planning on reading this February? Let me know in the comments! ♥