Hello everyone- how are we all doing?
Oh gosh, so April has arrived already! I feel like I say it every month but how is it already this late into the year!? Part of me is excited, as it means we are getting well into Spring and hopefully into some sunny weather. But the other part of me is worried about how quickly time is going- I don't have any major plans for spring/summer (or a beach body) so the fact that it is looming ahead of me is a bit concerning!
Either way a new month means a new wrap-up. So, how was everyone's March? I have to say, mine has been SO busy with work! I've been really stressed with it all and so I feel like I haven't had much time for anything else! 😦 Hopefully April goes a little bit easier for me haha
Oh, but one thing I did do in March was have a weekend away in Birmingham!
I went with my mum to treat her for her birthday. We originally booked this months ago as they were due to open the biggest Primark in the world last Christmas. We thought by going in March it would be enough time to avoid any delays, but the store's opening has been delayed until mid-April- typical! 😛 It was still a fun time regardless, and nice to look around somewhere new 🙂
**
Book-wise though, my March has been pretty average? Due to the busyness of work I haven't been able to get as involved with the book community as I would like, and I've also been a bit slower with my reading as I've been sleeping on my commute instead of looking at books haha! But I did read a couple of good books towards the end of the month that seems to have changed all that 🙂
So, let's get down to business- here is my wrap-up for March 2019!
****
Books I Read
In my March TBR I wanted to finish The Queen's Poisoner by Jeff Wheeler, and then read Ash Princess by Laura Sebastian, State of Sorrow by Melinda Salisbury and The Prince and the Dressmaker by Jen Wang. I made a good start on this list but went a little off track, haha!
This March I read:
The Queen's Poisoner by Jeff Wheeler~ ★★★☆☆
I didn't really know how to rate this one in the end. On one hand I loved the setting and the intrigue, but I was so close to DNF-ing this one at the beginning as nothing happened for ages! But once things kicked off in the second half I was much more engrossed. Although, there aren't really any poisons in this one, just FYI haha. I might read book 2 before I make my mind up about the series though, just in case.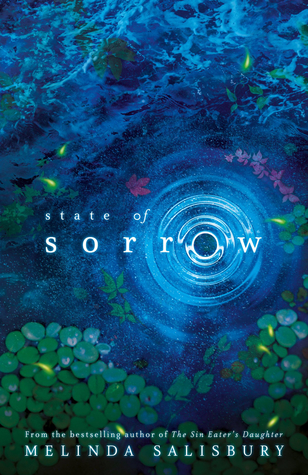 State of Sorrow by Melinda Salisbury~ Review TBC
I actually read a chapter sample of this a couple of years back from YALC and loved it, but have been scared to read the rest of the book in case it didn't meet my expectations. But this was a fab read. I loved all the light politics and secrets, it kept me intrigued throughout. I was enthralled by the world, and couldn't believe that ending! A lovely YA fantasy with a cover to die for, definitely my kind of book~ ❤ Full review to follow!
****

As soon as I finished State of Sorrow I just had to pick up book 2, so right now I'm partway through Song of Sorrow by Melinda Salisbury. Still loving the fantasy vibe and the plot, can't wait to keep reading 🙂
**
I don't think March has been my greatest reading month, but I've been engrossed in the Sorrow series and since then I've felt a lot more inspired to read! 🙂 Let's hope April is more positive!
March Blog Posts
February 19 Wrap-Up// March TBR
Anticipated Releases: March 2019!
I Should Have Read That Book Tag
Mini Reviews: Thieves and Poisoners
Sadly because of the business of work  I couldn't do more than my usual Monday post, but on the bright side I feel like my March posts were nice and varied! I would like to post more on this blog so here's hoping April is more relaxed so I can spend more time writing content. 🙂
April TBR
I don't have many burning reading desires for April at the moment. I might decide to be more of a mood reader for this month, but just in case I've got a small TBR pile together. After finishing Song of Sorrow by Melinda Salisbury, this April I'm planning on reading:
Ash Princess by Laura Sebastian~ Is this like the third month in a row I've put this on my TBR? But I do want to read this soon- it looks really intriguing!
They Both Die at the End by Adam Silvera~ I feel like I should have a contemporary on the list for April, and I don't actually have that many on my TBR shelves! But I've been meaning to read this one for a while, so it's made its way on to my April TBR. I've heard its an emotional one too, which I am all here for. 🙂
The Prince and the Dressmaker by Jen Wang~ This is making another appearance on my monthly TBR, as I didn't quite get round to it in March. This looks like a super cute graphic novel, and I keep meaning to read this! ❤
The Surface Breaks by Louise O'Neill~ Not sure if I'll read this one yet, but it's not a huge book so I thought I'd add it to the list just in case. It is a reimagining of The Little Mermaid, and I've heard it has a dark twist to it? The copy I have is actually a proof from my work that got damaged in an office flood last year, haha!
****
And that's March all done and dusted! I have a few mixed feelings about the month ending, but I'm optimistic about April being a good month! Let's hope work is less busy and my reading is super productive 🙂
How was your March? Did you meet any of your goals? What are you planning on reading next? Let me know in the comments! ♥